Plans are underway for Buddy Holly Hall of Performing Arts and Sciences, which broke ground in April, to sweep residents of Lubbock, Texas, off their feet. Located in the musician's hometown, the venue is being developed by Lubbock Entertainment and Performing Arts Association (LEPAA) and designed by Diamond Schmitt Architects, and will offer varied performance spaces when completed.
It includes a grand hall, 425-seat studio theater, and 2200-seat auditorium known as the Helen DeVitt Jones Theater. Its lobby—which contains a bistro and helical stair allowing for public activity during the day—is named for the philanthropist's daughter, Christine DeVitt. The 20,253-m2 (218,000-sf) facility also dedicates 2044 m2 (22,000 sf) and five dance studios to Ballet Lubbock.
"The aim for Lubbock is to create a performing arts center as good acoustically, as welcoming to the public, and as attractive to performers to be among the best halls in North America," said Jack Diamond, principal with Diamond Schmitt.
One way the project team is accomplishing this attractiveness is through versatility—the center is to be usable for a wide range of performance types, including opera, musicals, concerts, conferences, and symphonic music. The Lubbock Independent School District will also be able to use it as a learning space.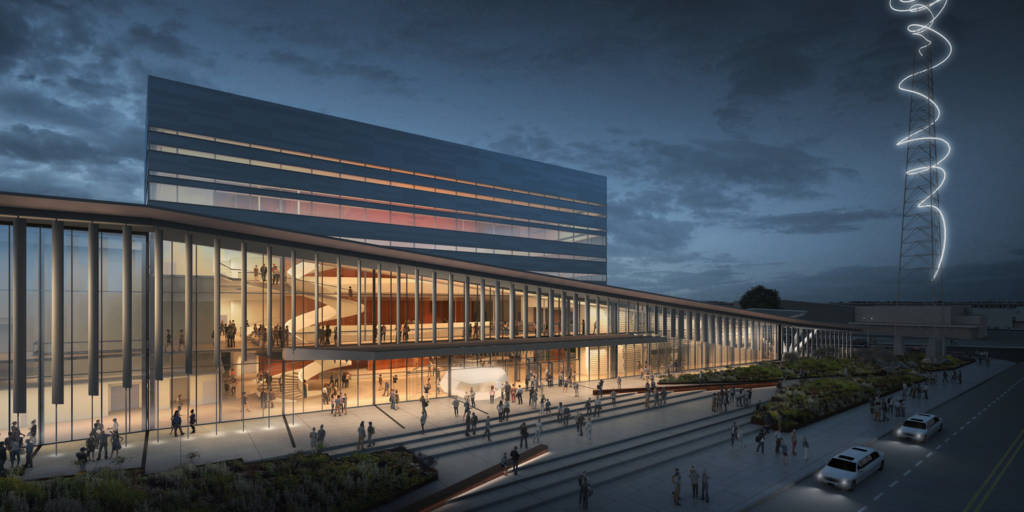 "Our goal is to have this venue feel great for all types of performers and audiences—whether they are in jeans and hats or ball gowns," said Matthew Lella, principal with Diamond Schmitt. "To achieve this versatility, the floor of the auditorium can have raked seating or be flat for a standing audience, either below or in line with the stage."
However, this need for multipurpose capabilities also adds a layer of complexity to the design process. Diamond Schmitt cites one aspect of it—ensuring the large auditorium's acoustics suit both amplified and unamplified music—as particularly critical. The team describes the area's versatile climate as its other primary challenge, needing to design a facility that can withstand weather ranging from snowstorms to dust storms.
A 61-m (200-ft) light sculpture patterned after a telecommunications tower adds aesthetic appeal to the design, as do planes and columns on the roofline framing the interior's fly tower.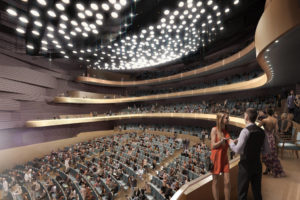 In addition to Diamond Schmitt, the project team consists of:
The center is being funded entirely privately, and LEPAA has now raised $81 million toward its goal of $155 million. The venue is set to open in 2020.
"Buddy Holly Hall will be a beacon for progress and downtown revitalization for Lubbock and the South Plains," said Tim Collins, LEPAA's chair. "The venue is a hub that brings together people of all ages to experience world-class art in a world-class facility."
To explore the design in greater detail, see the video above.