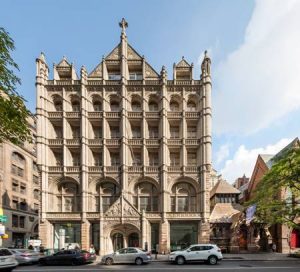 Fotografiska, the Stockholm-based photo museum, has selected the team of architect and designers who will transform the historic 281 Park Ave South building into Fotografiska New York. It will open in spring 2019, and offer photography exhibitions, restaurant and bar concept, and culturally eclectic event programming.
"We are thrilled to activate this historic landmark with Fotografiska's vision and to give it back to the city as a space for social and cultural interactions. It is one of those intriguing buildings New Yorkers have always wondered: what is behind its doors?" said Geoffrey Newman, owner, Fotografiska New York.
Architecture and interior design firm CetraRuddy is doing the design and renovation of the six-floor, 4181-m² (45,000-sf) historic landmark, with a view to bring life to Fotografiska's core value of inspiring a more conscious world. Design studio Roman and Williams will do the interior concept for the second-floor restaurant. Technology consultancy Linq will be developing a tech-enhanced, multisensory journey for visitors to experience throughout the space. Higgins Quasebarth & Partners are consulting on the preservation and restoration elements of the property, such as the stained glass windows on the second floor and the limestone and granite façade.
The aim of Fotografiska New York is to create an integrated experience from floors one through six that inspire memorable moments, and balance the opportunity for community and conversations as well as introspection and intimacy.