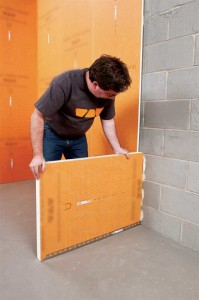 Linear floor drains
In recent years, various manufacturers have introduced linear floor drains with integrated bonding flanges for use in conjunction with bonded waterproofing assemblies. Linear drains offer certain advantages over typical 'point' drains. Shower bases must be sloped from all directions to point drains, limiting tile selection to mosaics or other relatively small-format tiles. However, the shower base can be sloped on a single plane to linear drains, which enables the use of large-format tiles.
Large-format tiles are currently the most popular option for floors. In barrier-free applications using linear drains, the large-format tiles on the floor can be continued into the shower enclosure, creating a seamless transition and furthering the open-concept design. Linear drains can be installed at various locations, including adjacent to walls, intermediate locations, or even at shower entrances. In this last application, the drain is placed to intercept water from the shower; however, secondary drainage (e.g. point drain) is recommended in the drying area to capture any overflow.
Slip-resistant flooring
The 2010 ADA Standards for Accessible Design states:
Floor and ground surfaces shall be stable, firm, and slip resistant … [and] A slip-resistant surface provides sufficient frictional counterforce to the forces exerted in walking to permit safe ambulation.
Previous versions of ADA referenced a minimum recommended static coefficient of friction (SCOF) of 0.6, but did not specify a corresponding test method and the reference was subsequently withdrawn. For ceramic tile, the most commonly used evaluation was ASTM C1028, Standard Test Method for Determining the Static Coefficient of Friction of Ceramic Tile and Other Like Surfaces by the Horizontal Dynamometer Pull-meter Method, but its suitability, accuracy, and repeatability were questioned.
Substantial research has been performed and ANSI A137.1, American National Standard Specifications for Ceramic Tile, now references a new test method, the dynamic coefficient of friction (DCOF) AcuTest. Further, for the first time, it requires a minimum performance criterion of 0.42 for level interior spaces expected to be walked on when wet (more information on waterproofing tiles in exterior decking applications).
Custom building elements
Until the introduction of thin-set tile adhesives in the 1960s, tile-setters could not bond tiles directly to existing substrates. Instead, mortar beds were floated on floors, walls, shower seats, and vanity tops, while the tiles were beat in with a neat coat of portland cement paste when the mortar was still fresh.
While this method demanded great skill and labor, it offered significant benefits in tile-setters had complete control over the substrate and could produce perfectly flat, level, plumb, and square surfaces for tile installation. Over time, floating mortar became an uncommon skill in the tile industry. Mortar beds gave way to tile backerboards installed over framing and other constructions requiring comprehensive preparation and waterproofing measures.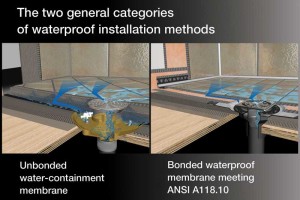 Lightweight extruded polystyrene (XPS) and expanded polystyrene (EPS) waterproof building panels restore control to the tile-setter. These materials can be integrated into bonded waterproofing assemblies with manufacturer-recommended seaming practices.
Such panels may be installed directly over wall framing with fasteners or spot-bonded to masonry walls to allow the tile-setter to true the walls before tile installation. The panels may also be used to create shower seats, vanities, bathtub platforms, and self-supporting partitions without any wood or metal framing and sheathing underneath.
Panels are assembled and bonded using thin-set mortar or other compatible adhesives and can be further attached or stabilized using anchors and reinforcement profiles as required for specific projects. These assemblies can also significantly reduce dead loads. A 1.2 x 2.4-m (4 x 8-ft) framed partition wall using 2×4 sawn lumber and 13-mm (1⁄2-in.) thick gypsum board sheathing could weigh in excess of 74 kg (164 lb), while the same partition constructed using two 50-mm (2-in.) thick layers of XPS foam panel could weigh as little as 32 kg (70 lb). This represents a 42-kg (94-lb) decrease, or about a 57 percent weight saving for the partition construction before tile application.
Conclusion
Market demand is changing the way we approach the renovation and construction of bathrooms. Changing demographics and evolving design ideas are driving these new requirements. New materials and construction methods are making the designs more attainable in many different types of residential and commercial buildings. Today, one can create bathrooms that intertwine strong foundations with unlimited design freedom, while ultimately challenging barriers to provide more freedom.
Sean Gerolimatos is the technical director for Schluter Systems LP, and has been with the company since 2003. He has served as a member of the The Council of North America's Handbook Membrane Subcommittee, written articles for trade publications, and presented seminars at tile industry events, including Qualicer and Surfaces. Gerolimatos' academic background is in civil engineering; he earned a bachelor's degree from Clarkson University and a master's from Cornell University. He can be reached at (888) 472-4588.