Design revealed for Indiana's new soccer stadium
by arslan_ahmed | March 6, 2023 4:55 pm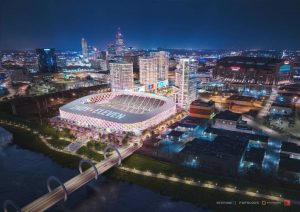 The USL Championship's (USLC's) Indy Eleven and the construction and development company, Keystone Group, have unveiled renderings of the transformational Eleven Park neighborhood development, which includes a new multipurpose stadium.
With an expected capacity of around 20,000 seats, the stadium will serve as the new home for Indy Eleven, situated in the center of a development which will transform the southwest quadrant of downtown Indianapolis with apartments, office space, retail space, restaurants, parking garages, a hotel, and public plazas with green spaces.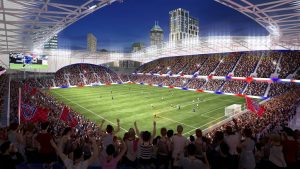 The stadium is anticipated to be completed in 2025 and is designed for fan experience and relation to its site. It will make space for 2,400 supporters in a steep, safe-standing section on the north end of the stadium. On the west, the building will offer a wide array of premium choices, from the field club seating on pitch level surrounding the team benches, up through the mid-line club with suites, party suites, and a terrace club above. On the south, a taproom provides game day club atmosphere for 700 fans with a viewing terrace for non-game day watch parties and events.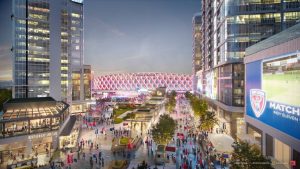 On the east, seats will be concentrated on the sideline with the widest concourse and best concessions and restroom ratios in the league. The design wraps the exterior of the stadium in a dynamic, color-changing facade that reflects the forward-looking nature of the development. Populous is leading the design and Browning Day is the architect of record for this project.
"A world-class stadium is designed as a true destination, a reflection of its community, and a catalyst for growth in the area. This is our mission with the new stadium for Indy Eleven," says Phil Kolbo, a principal at global design firm Populous. "The stadium will anchor Eleven Park, providing a home for Indy Eleven that creates new and tailored experiences for Indianapolis fans in a venue designed with the innovation and aspirations of a great global soccer venue."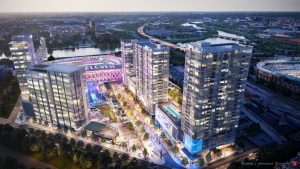 "The vision of this transformational development into a live, work, and play village is becoming a reality. Eleven Park will not only change the skyline of Indianapolis, but will add over a thousand jobs, have a huge economic impact, create quality of life benefits, and attract talent and opportunities to our city and state," says Ersal Ozdemir, chairman and founder of Keystone Group & Indy Eleven.
Endnotes:
[Image]: https://www.constructionspecifier.com/wp-content/uploads/2023/03/AA_IndianapolisStadium_1.jpg
[Image]: https://www.constructionspecifier.com/wp-content/uploads/2023/03/AA_IndianapolisStadium_2.jpg
[Image]: https://www.constructionspecifier.com/wp-content/uploads/2023/03/AA_IndianapolisStadium_3.jpg
[Image]: https://www.constructionspecifier.com/wp-content/uploads/2023/03/AA_IndianapolisStadium_4.jpg
Source URL: https://www.constructionspecifier.com/designs-revealed-for-indianas-new-soccer-stadium/
---