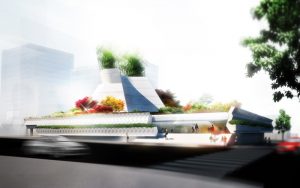 Plans have been revealed for the new Korean American National Museum in Los Angeles, California.
Designed by Morphosis Architects, the museum supports the institution's mission to preserve, study, and present Korean-American cultural heritage. The design of the building reflects this mission through landscape elements, spatial organization, and architectural forms symbolizing and exploring the Korean-American experience.
The museum follows the classic courtyard plan of the traditional Korean hanok (house), circling a central open space with an interconnected ring of galleries, meeting rooms, and offices.
The exterior is an abstracted solid concrete edge without scalar elements. The exterior wall is embossed with a pattern seen in royal palaces, and its interiors are defined by a sculptural ceiling-scape evoking the vaulted ceiling of a hanok.
Anchoring a prominent corner in Los Angeles' Koreatown, the new orientation culminates in a triple-height gallery. This gallery is composed of two intersecting volumes, further referencing the continuing duality of Korean and American existence.