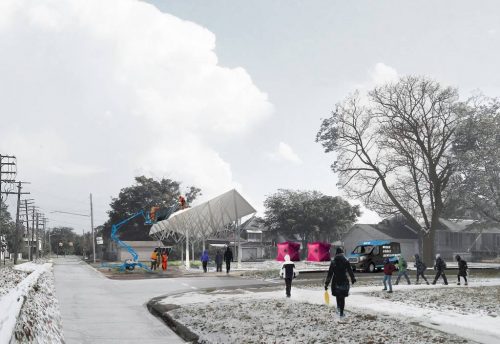 Detroit-based design firm studio[Ci] received bronze at the recent Global LafargeHolcim Awards, out of 15 finalists. Presented by the LafargeHolcim Foundation for Sustainable Construction, the awards recognize in-progress designs—not yet built—that demonstrate sustainable solutions to technological, environmental, socioeconomic, and cultural issues affecting contemporary construction.
Led by founding director Constance C. Bodurow, studio[Ci]'s Grassroots Microgrid advanced to the global competition after receiving the Gold Award at LafargeHolcim's North American Awards last year. The project—also known as the Seebaldt Pilot—reimagines empty community lots in Detroit as collective infrastructure for energy and food production, which enables neighborhoods to reach energy autonomy through micro-infrastructure and effectively empowering communities through civic engagement.
This year's Global Gold Award went to Mexican firm Taller Capital for its infrastructure project Hydropuncture, a publicly accessible water retention and treatment complex planned for an in-need area in Mexico City. Meanwhile, architects from Niger-based atelier masōmī and Iran's studio chahar received the Global Silver Award for Legacy Restored, a reinterpretation of traditional local construction for a new mosque and community center in Dandaji, Niger, that creates space open to all members of the village.
"The context of the three global award-winning projects is complementary, providing models for megacities, urban communities, and remote rural villages," said Alejandro Aravena, head of the jury's judging panel. "They indicate two tendencies within the discourse on sustainability: a focus on infrastructure and new explorations of traditional ways of building."
To read more, click here.