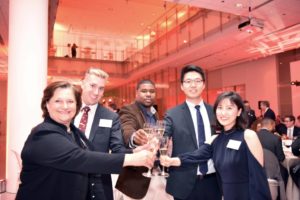 Last month, the LafargeHolcim Foundation for Sustainable Construction announced the winners for the 2017 LafargeHolcim Awards (North American region) in Chicago. The foundation recognizes in-progress designs—not yet built—that demonstrate sustainable solutions to technological, environmental, socioeconomic, and cultural issues affecting contemporary construction. Presented every three years, more than half of the 200 previously awarded projects have since gone into development.
Constance C. Bodurow of studio[Ci] took top honors this year, winning the Gold Award for neighborhood planning in an under-utilized district in Detroit. The design empowers the community through civic engagement by reimagining vacant lots as opportunities for economic growth. The community-owned infrastructure includes plans for local energy and food production, as well as water and waste management. The jury praised studio[Ci]'s reimagining of "pocket vacancies" in Detroit as an opportunity to develop a "compelling, sustainable neighborhood."
Oliver Lang and Cynthia Wilson from Vancouver's LWPAC + Intelligent City won the Silver Award for their innovative modular mid-rise housing design. The team envisioned mixed-use housing through an adaptable modular panel system that creates a variety of unit layouts, both for single buildings and large developments, effectively merging sustainability with affordability.
The Bronze was awarded to Sheila Kennedy and Juan Frano Violich (Kennedy & Violich) based at Wellesley College in Boston for their net-zero greenhouse design. Using local materials and labor, this project reimagines the greenhouse—generally considered a high-energy structure—as an energy-efficient site, suitable for studies of plant-form adaptations.
(To view a full list of North American winning projects, including Acknowledgement and Next Generation prizes, click here.)
The North American Gold, Silver, and Bronze winners will compete for the Global LafargeHolcim Awards in March 2018, along with the top winners from Europe, Latin America, Middle East Africa, and Asia Pacific. The foundation reviewed over 5000 entries from 121 different countries for the 2017 awards cycle.
The next LafargeHolcim Awards competition opens for entries in mid-2019.
To read about the global winners from last cycle, click here.