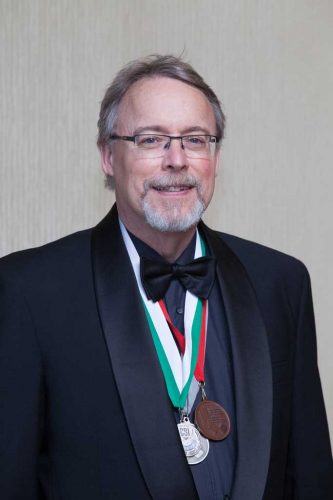 CSI Member Spotlights are about supporting a robust community where construction professionals get together to trade insights for amazing results. Today's Spotlight is on Keith Robinson, a senior associate with Canadian architectural firm DIALOG.
Born in Edmonton, Alberta, Robinson has been a member of CSI since 2005. He is also a technical liaison with Construction Specifications Canada (CSC) and has participated in a number of SectionFormat/PageFormat discussions—one of the many documents where CSI and CSC share development. At DIALOG, Robinson works in research and development (R&D) and specifications, providing technical input for building envelopes and systems.
How has CSI impacted you, both personally and professionally?
Initially I joined CSI to get a different point-of-view on contracts and contract administration. The legal aspects between Canada and the United States vary—typically with issues being identified and resolved sooner in the United States. Being on the leading edge of developing trends allowed our firm's specifications to adapt using predictive outcomes for issues we were starting to encounter.
Later in my membership, I found that the Seattle Share Group I participated in was open to questions and sharing opportunities to solve common specification issues. I also saw opportunity to contribute at a national level and volunteered for a number of initiatives including in the development of OmniClass and MasterFormat.
What was your first industry job?
My first job was as a junior drafting technologist; however, as my handwriting skills were poor, one of the senior partners at the company thought I could do less damage editing specifications. This is ironic, as my technical abilities are still used to help others with their "drawing" detailing.
That architect became a very good friend and mentor. He encouraged me to take courses in construction law and architectural practice and his guidance allowed me to grow in my career to the position I now occupy: a senior associate in one of the largest private architectural/engineering professional practices in Canada.
How would you describe your profession?
In a word, challenging. Being a specifier defines what I do, but not what I am. My educational background is in industrial design and architectural technology. Many people see specifiers and their written works as a complete mystery. Specifications are perceived as disconnected from the more visual aspects of project documents and, thus, less deserving of the attention when compared to drawings. That is, of course, until something goes wrong, at which point the specification is seen as a lifeline.
"Specifiers are in a position of trust and have the ability to influence outcomes and create positive experiences."
My background allows specifications to be modified to interpret design language and connect more effectively to the graphical documentation. I understand design and how to interpret this type of language in a way that is, for the most part, able to be more effectively communicated to the constructor. Those who do not know me might classify me by standard perceptions of specification writing: dull, boring, and unimaginative; however, the people I work with realize specifiers with a design background are valued team members and appreciate the knowledge "people like us" bring to designs.
Why does your profession matter to you?
I see specifiers as educators. Once they have described a difficult design element, completed some component of research, or overcome a challenging contract administration event, they are presented with opportunities to share these experiences.
Specifiers capture the historical knowledge of architectural/engineering firms. They are in a position of trust and have the ability to influence outcomes and create positive experiences.
There is also the danger of inattention. If an element of design is missed in the assembly of the project manual, this oversight can result in 'unfortunate' delivery of a key building component on-site. This is a reminder of the great responsibility placed on the specification and is the reason why so many specifiers ensure the benefits of the role they play in a professional practice is known to their employer.
What is your favorite aspect of working with others in this field?
I really enjoy sharing. I love working with others, whether it is as a part of a mixed-discipline group, looking for project solutions, or simply sitting in a bar, comparing stories and approaches to writing. My colleagues and I are part of great, supportive community. The people I circulate with are willing to give and receive ideas freely.