by Jerry Robel
Well-known for its beauty and durability, granite offers numerous design benefits. However, a less familiar advantage is its versatility—particularly when multiple finishes are applied. Today, design teams are selecting one granite type, choosing several finishes, and achieving great variety, texture, and appeal.
It is a common misconception a project with only one type of stone produces a monotonous look. As a result, the search for variety often leads designers to select numerous stone colors, which can stretch a budget. Additionally, design teams may have a particular appearance in mind, but fail to realize the various available finish options to achieve it. This is often due to a lack of education. The stone industry is highly specialized, and many outside of it do not realize the possibilities finishes create. To help educate the industry, leading stone manufacturers offer lunch-and-learn sessions with samples. However, visits to fabrication facilities present the best learning method, as design teams can see the various benefits, appearances, and functionality achievable with different finishes.
One such benefit is the more subtle contrast of one stone type with multiple finishes versus a more stark contrast of different stones. When multiple finishes of the same stone are used throughout the project, subtle variations coordinating the entire look are created. Additionally, using one stone can reduce the number of pieces requiring installation, which also reduces the joints between pieces. Therefore, a more defined break from finish to finish is achieved.
Sometimes a change in finish is used as a design element. For example, a hardscape might change finishes to signal a change in space, such as moving into a seating area. In other cases, a different finish achieves the functionality a project requires (i.e. when meeting the Americans with Disabilities Act [ADA] requirements). While polished or honed finishes alone do not generally meet ADA requirements, the application of a flamed or sanded finish in conjunction with a polished or honed may achieve the minimums.
Design teams wishing to incorporate a variety of finishes should coordinate carefully with their granite fabricator. In the following examples described throughout this article, the design teams chose a variety of finishes with the same material to achieve functional coordinated spaces.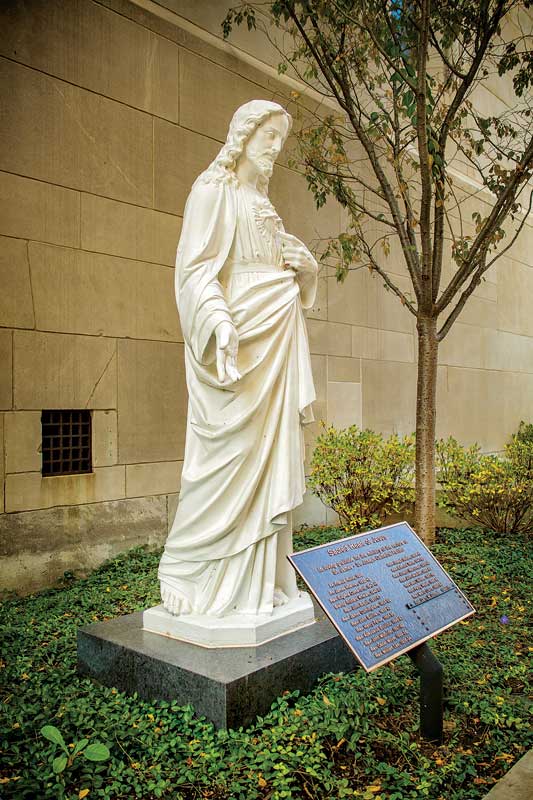 Multiple finishes offer coordinated look for cathedral hardscape
In Wheeling, West Virginia, the Roman Catholic Diocese of Wheeling-Charleston recently initiated a major reorganization project for the campus of St. Joseph Cathedral. The diocese had outgrown its existing 1950s-era chancery where the diocese's administrative offices are housed. For the project, the design team chose one granite color in multiple finishes to coordinate the space.
In addition to the cathedral, the existing campus had numerous buildings serving the area's Catholic community, including a building containing the chancery, rectory, and archives, a high school, and an elementary school.
Plans for the reorganization included closing the existing elementary school and renovating the building into a new chancery.
The design involved the construction of a central courtyard and garden—creating public spaces for the community's enjoyment. A new fountain in the courtyard would add the elements of movement and sound for an inviting and serene gathering area.
In 2011, the diocese closed the elementary school and commenced renovations for the new chancery and public space. An existing courtyard of concrete unit pavers and wall systems was removed and new paving in granite was installed. Granite was selected not only for its beauty and durability, but also for its versatility.