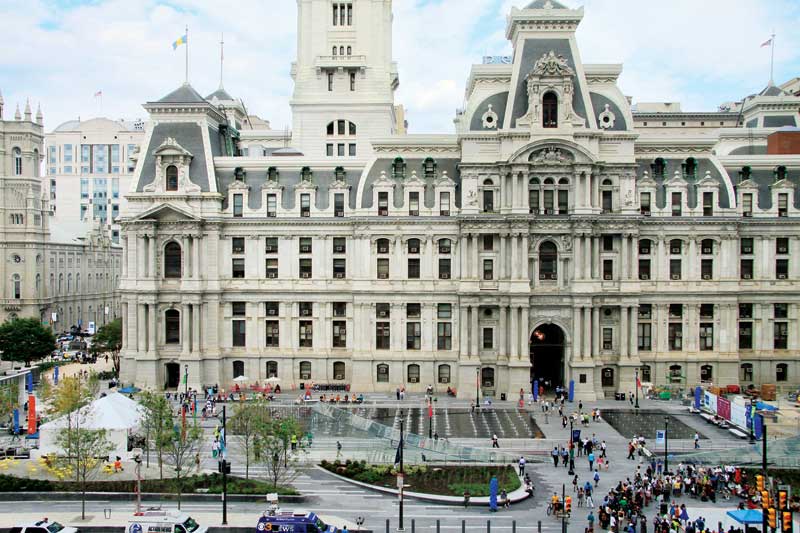 The 14 large, curvilinear benches along the plaza area are constructed of granite veneer and capstones of solid granite in the same finish as the surrounding pavers. In total, 603-m2 (6500-sf) of granite was used for the benches. The benches and their smooth, curvilinear forms are designed to respond to the changes in grade when entering the plaza. As park visitors travel up and down the plaza, the benches curve and hold a grade in a way that calls to mind a giant balustrade on a stair. The benches' beautiful curved forms change constantly in radius, height, and width—a modern version of stonework from generations past. Benches and capstones were installed with cranes, due to their large size.
Installation of the pavers proved complicated because of the stone's location atop the city's transportation system. Essentially, the park is a roof and is on a nearly flat elevation. Designers had to determine the best way to channel stormwater from one end of the park to the other. As such, the stonework had to maintain sufficient tolerance to achieve the required drainage characteristics. Exceptional fabrication with computer numerically controlled (CNC) technology achieved the precisely shaped stones meeting the specifications needed for drainage.
Other installation challenges included the numerous finishes and textures of the pavers. With three different finishes running together in bands throughout the plaza, the design, fabrication, and installation teams had to carefully coordinate and catalog each piece of stone for it to be placed in the correct location.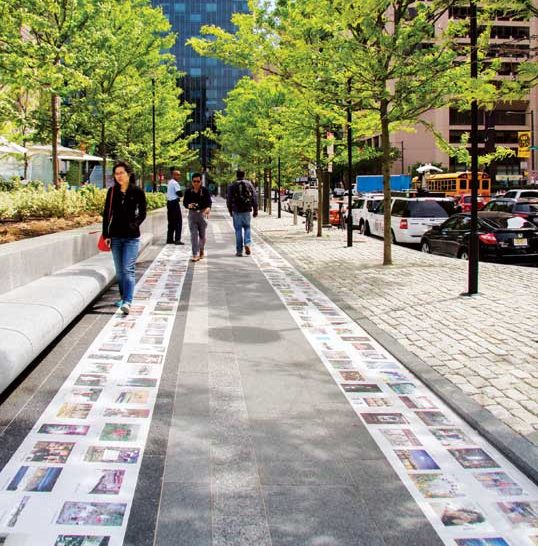 As a new 'front door' to the city, Dilworth Park is a beautiful, inviting public space. The Dilworth Park project re-establishes William Penn's original Center Square as the heart and soul of a historic city.
Conclusion
With so many finish options available, it is critically important to work closely with a manufacturer's representative who will explain the possibilities and provide sampling. A visit to a fabrication facility to see the finishes being applied will offer an invaluable opportunity to learn about the possibilities. In the end, the result is the architect or owner's vision is realized with the beauty of stone as the backdrop.
Offering a beautiful, durable, and low-maintenance surface, granite is suitable for interior and exterior applications. One stone can take on a completely different appearance when a different finish is applied. Using multiple finishes of the same stone can create subtle variations that coordinate the project without going overboard. A transition to a different finish can serve as a design element, signaling a change. The options in finishes go far beyond polished or honed. Understanding the many differences and options can open new doors of design possibilities.
Jerry Robel has specialized in the natural stone industry for more than 30 years. As director of sales at Coldspring, Robel works with the architectural and design communities to meet their natural stone needs, and with cemeteries for memorial product and cemetery development needs. He can be reached at jrobel@coldspringusa.com.