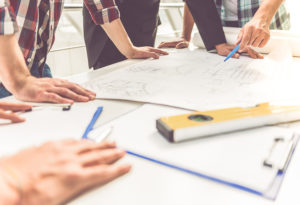 RFIs
Construction industry team members must stay abreast of the document management system, especially as it relates to specifications defining the methodology for RFIs. Few owners take the time and effort to define terms like 'RFI,' 'plan clarification,' 'substitutions,' or 'nonconformance notice' in the contract documents, but it is crucial they establish an RFI processing and response system in the contract documents and in the contractor's field trailer.
Owners need to examine their own internal project process to ensure it is fair and prompt, and describe the process in the contract documents so contractors, architects, and engineers understand what systems are in place and how they operate. Responses to RFIs should be issued in a timely fashion, and should not change any requirements of the contract documents unless included in a signed change order.
All contract parties should be educated on the daily RFI process. The architect and owner need to establish a formal, in-house RFI review processing system, and it is recommended they assign a single, knowledgeable individual to be in charge of it. This person must personally receive all documents labeled RFIs, and should review them the same day they are received to determine if they have been labeled correctly. If the document is actually an RFI, the appointed individual should enter the document into the RFI log and process it for a response. He or she should also track all RFIs in process to ensure timely and accurate responses are made.
Change orders
When changes in the scope of work occur, most construction contracts require written change orders for time and money. The owner is responsible for signing these orders, but problems are often encountered when the owner's project manager relies on the architect to review or recommend the approval/rejection of change orders based on an area not adequately covered in the plans and specifications. This may cause a conflict of interest for the architect, who—by approving such change orders—may be inappropriately admitting his or her own negligence in allowing faulty omissions from the contract documents. It is best for project managers to keep detailed logs of all change orders.
Record-keeping
Architects and contractors should both hold meetings and record minutes, which the project manager must obtain copies of and file. For instance, when the architect makes site visits, he or she will prepare minutes of each meeting and distribute them to the owner and contractor. Each project manager must scrutinize the architect's minutes, and all contract parties should check whether its policy is to challenge erroneous items in these minutes. Project managers should also consider what the architect's intention was with the items being challenged, and monitor any items possibly self-serving to the author of the minutes, remembering minutes are project documentation.
The project manager should also scrutinize all pre-construction tests and review all testing reports during construction, keeping detailed documentation of such reports in the appropriate file. Every project manager should further examine the project specifications for testing requirements, and may want to add testing activities to the CPM schedule. It is important to remember the owner hires the testing agent, and needs to be informed by the project manager when tests are required.