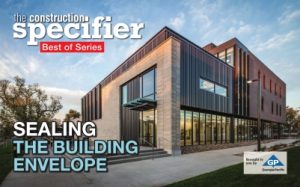 The magazine's series of sponsored e-books continues with an overview on sealing the building envelope, and how cladding materials are incorporated into a project.
The Construction Specifier has announced the newest volume in its series of free, downloadable e-books—a technical discussion of gypsum-integrated water-resistive barrier-air barrier (WRB-AB) sheathings. The balancing act between aesthetic preferences and air and moisture management is where WRB-AB sheathings shine.
The curated collection of magazine articles also analyzes what is happening behind stucco and manufactured stone. Employed in the building industry for ages, these claddings are well known for their fire-resistance abilities, durability, and aesthetics.
The e-book also illustrates how to keep low-slope roofs dry in northern climates using a complete vapor retarder.
Download the Sealing the Building Envelope e-book in two different formats—pdf or digital edition—by visiting www.constructionspecifier.com/ebook/georgia-pacific-sealing-the-building-envelope-e-book.