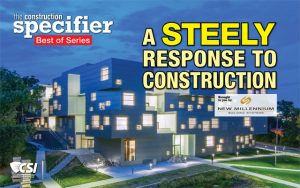 The magazine's series of sponsored e-books continues with a discussion on the many innovative uses of metals, especially steel, in buildings.
The Construction Specifier has announced the newest volume in its series of free, downloadable e-books—a technical exploration of cold-formed steel. Cold-formed steel is one of the most widely used framing materials in commercial construction because of its ability to provide strength and stability in a number of conditions.
The curated collection of magazine articles also analyzes how galvanized steel can be recycled and reused cost-effectively and efficiently in many ways with minimal or no processing, and helps increase economic and environmental value.
It also illustrates how perforated metal panels were employed on the exterior of a new arts building at the University of Iowa to bring light into the poured-in concrete structure during the day and outward at night.
Download the "A Steely Response to Construction" in two different formats—pdf or digital edition—by visiting www.constructionspecifier.com/ebook/new-millennium-a-steely-response-to-construction-e-book.