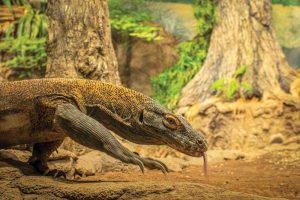 By Benjamin Oman
For four-year-old Nakal and eight-year-old Berani, two Komodo dragons, the comforts of home have been difficult to reproduce where they reside: in the rainy, gray region of the Pacific Northwest. The pair, born in the tropical climate of Indonesia, share a unique set of environmental needs that have challenged the construction of their living space for years. Among the requirements are intense humidity, wild native landscaping, and temperature variances ranging from 21 to 60 C (70 to 140 F). For most, such extreme features would not produce the ideal circumstances for a home environment. However, these conditions are exactly what Komodo dragons need.
A necessary renovation
Nakal and Berani are the wild residents of the Woodland Park Zoo in Seattle, Washington. Recently, with the help of tubular daylighting technology, their home enclosure has been transformed to successfully meet their distinctive health and wellness needs. For years previously, they lived in an aging exhibit space whose inadequacies have proved challenging for their caretaker, Kevin Murphy. As an animal curator at the Woodland Park Zoo, Murphy is responsible for ensuring the two Komodo dragons have everything they need to thrive in their enclosure. So, when it came time to renovate their sub-optimal housing space, he knew the renovation's success hinged upon one singular facet: the roof.
"This enclosure was originally designed 20 years ago, and it was essentially built inside a greenhouse with an old glass roof," he says. "We didn't have enough control over the environment—especially temperature and humidity. So, for this project, the number one goal was to gain complete control over the environmental conditions."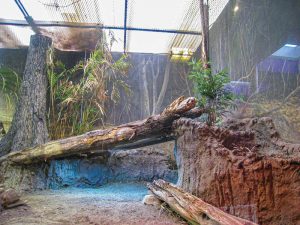 For the Komodo dragons, complete control meant producing and efficiently maintaining various temperature zones—ranging from 21 C (70 F) to basking areas of 60 C (140 F)—all within the same space. Murphy and the dragons needed a habitat capable of sustainably insulating and providing these intense heat and moisture conditions, a task made all but impossible by the original glass ceiling. Replacing the glass ceiling with a standard roof seemed the inevitable direction for the renovation; however, the decision would prove more complicated than it appeared.
The glass ceiling's biggest failure was also its most tremendous success. While the skylight roof proved virtually useless at insulating the space properly, it did an exceptional job of providing substantial amounts of natural daylight, a critical resource for the Komodo dragons.
"In my experience, animals react positively to a natural photoperiod," said Murphy. "We do reproduce that photoperiod with our light cycles here, but a natural photoperiod is really beneficial."