Architectural choices are virtually unlimited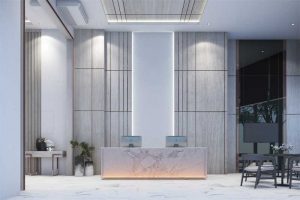 The strength of concrete matched with the design versatility of stunning architectural choices make rainscreen wall systems designed with CMUs a premium choice for strong, beautiful buildings. The architectural options are virtually unlimited given the hundreds of styles, finishes, textures, and colors from which to choose. Another advantage is many products can be seamlessly designed into high-performing rainscreen wall systems to create impenetrable moisture barriers to aesthetically complement nearly any architectural or aesthetic style.
Built for the control of moisture and severe weather events
With today's rainscreen wall systems, water management strategies have advanced over time from simple, single-layer barriers this can be breached by environmental elements to multi-layered, water-resistant membranes that improve energy efficiency and prolong stability.
These results have been achieved in many cases through the combination of specifically engineered components that form total cladding solutions.
This process often starts with pocketed and profile-molded expanded polystyrene (EPS) insulation panels affixed to studs or steel building frameworks with stainless steel anchors and screws. Channels in the front and back are then inserted into the high-performing wall system to drain the water or moisture that infiltrate the wall. Another layer of protection is provided by the water repellant additives integrated directly into the block and mortar. Once the wall system's foundation is complete, the masonry stones are applied with pumped mortar ensuring the structure's near-impenetrable design.
In many cases, these insulated concrete masonry systems (ICMS) deliver unmatched masonry thermal performances rated at R-16.2 and efficiency levels exceeding the most stringent code requirements.
The future of natural-look veneers
Many leading rainscreen manufacturers are working in unison and with the newly formed Rainscreen Association of North America (RAiNA) to better assess and advance rainscreen materials and assemblies. In recent years, this has led to widespread introduction of carrying systems and innovative products that enable faster, more economic assemblies.
Among these have been the development of thinner stone panels for greater economy, lighter construction and improved appearance. Examples include the introduction of 25-mm (1-in.) veneers custom made from a mixture of white Portland cement combined with fine aggregates to create dense, long-lasting, and durable masonry products with aesthetic textures similar to natural limestone.
Proper design and installation
High-performance wall systems and rainscreens have become increasingly popular for their ability to protect the façades of commercial buildings from the elements, optimize energy performance levels, and enhance the structure's safety and comfort. Of course, the key is always in the quality of the design and rainscreen assembly, which can make the difference between decades of durability and years of moisture-related problems.