Durability with rainscreen masonry wall assemblies
June 30, 2021
By Michael Vaughn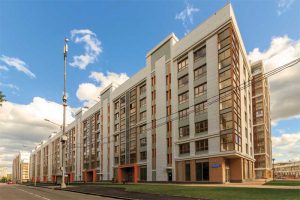 Water, sun, wind, and temperature damage are among the greatest enemies to a building's structural integrity, even when encased in precast or exterior masonry. The ability to prepare exteriors against these elements has become even more challenging given the rise in severe weather events that have battered the United States in recent years.
According to the National Centers for Environmental Information (NCEI)[2], the top five storm-related disasters in 2018 and 2019 alone combined to cause more than $75 billion in damage.
As a result, resilient design has grown into an industrywide movement calling on engineers, architects, environmental consultants, and other design professionals to create buildings that not only withstand severe storms like hurricanes and tornadoes, but also remain habitable under extreme weather circumstances. Defined as "the capacity to adapt to changing conditions and to maintain or regain functionality and vitality in the face of stress or disturbance" by the Resilient Design Institute (RDI), resilient design strategies incorporate sustainability and energy efficiency initiatives with legal and practice standards.
One of these methods includes the development of new rainscreen system technologies built with manufactured or natural stone cladding. Time-tested in numerous commercial building applications over the past century, these systems have continually proven their ability to provide a protective external layer that effectively manages water intrusion and other environmental challenges.
Already a $116-plus million global industry in 2018, rainscreen wall system revenues are expected to reach $60.75 billion worldwide by 2025[3] and continue to soar into the next decade. This is primarily due to the commercial building industry's growing reliance on resilient and sustainable design principles as well as the desire to protect investments. Other factors include the need for properly designed systems ensuring durable, long-lasting and attractive results.
What are rainscreen wall systems and cladding?
According to a Journal of Architectural Engineering[4] article from the library of the American Society of Civil Engineers (ASCE):
"The façade is one of the most significant contributors to the energy budget and comfort parameters of any building…. High-performance façades need to block adverse external environmental effects and maintain internal comfort conditions with minimal energy consumption"(For more information, read the American Society of Civil Engineers (ASCE) Library's Heat Transfer in Façade Systems and Energy Use: Comparative Study of Different Exterior Wall Types).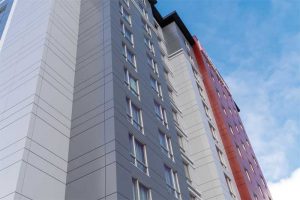 Rainscreen cladding and wall systems combined meet this need by creating an "outer skin" and protective barrier for the building's exterior façade. The outer layer of this double-wall construction typically consists of prefabricated materials ranging from polyurethane, terracotta, and metal to thin stone veneers, which have become increasingly popular over the last two decades. Lighter and often quicker to install than similar products, these veneers are being used to replicate the look and feel of full bed masonry in numerous commercial applications such as the multi-purpose, mixed-use, and multi-story residential building markets.
Near-impenetrable protective properties and environmental benefits
The Occupational Safety and Health Administration (OSHA)[6] estimates more than a quarter of U.S. buildings are water damaged (See "Surviving Mold: What is a Water Damaged Building?"). Though excessive rain is the most common culprit, unwanted water leakage can be caused by a number of sources to negatively impact the structural integrity of buildings and their foundations. Further, unwanted water leakage promotes the growth of mold, fungi, bacteria, and other potentially toxic organic materials.
From aging brick joints to settling cracks, the exterior walls of commercial buildings are easily penetrated by moisture if not properly maintained. When applied by expert professionals with the appropriate high-grade materials, rainscreen cladding can provide a near-impenetrable, moisture barrier to protect the building's original façade and thermal insulation from rain, secondary humidity, and condensation.
How do rainscreen wall systems work?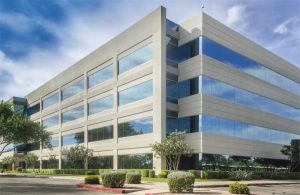 Rainscreen wall systems utilize a double-wall construction to create an air cavity protecting the exterior walls of the building from flying debris, heavy rain, moisture, etc. The gap between the exterior wall sheathing and exterior cladding is designed to reinforce the structure against water damage through capillary breaks to drain water away from the building's interior wall.
Another advantage is free circulation of air equalizing the air pressure between the wall system's underlying surface and the outside air to further reduce the possibility of water filtration and leakage. This ventilated cavity or drainage plane then also helps to drain and dry out the residual water and enhance air flow, while ventilating any moisture in the air. In addition to waterproofing the space, the system's multi-layer assembly serves to:
• protect the panel joints and wall construction from mold, warping, and other harmful effects resulting from seepage of water;
• shield the underlying surface from heavy winds and pounding rain; and
• reduce condensation and secondary humidity due to the enhanced air flow produced by its ventilated cavity.
An eco-friendly design to reduce energy costs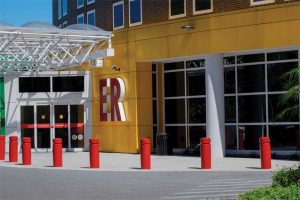 Another benefit of a rainscreen is its ability to lower energy costs by 30 to 40 percent[9] (Consult Exterior Wall Cladding: Design Principles and Material Choices).  The rainscreen's ventilated cavity achieves this by increasing thermal insulation, lowering the retention of heat, and reducing thermal and cold bridging, which can lead to condensation and mold growth.
Due seasonal temperature variations, a natural convection process commonly known as the 'chimney effect' also occurs within the cavity. This results in the warm air rising and then being replaced by cooler air temperatures during the warmer months. The inverse happens during winter when the air inside the cavity is too cool to rise, but warm enough to surround the building's interior with an insulated layer of mildly heated air. Other energy-efficient benefits of this effect include protecting the façade's internal thermal insulation, while helping it maintain maximum efficiency through the reduced possibility of excessive air leaks.
Many of today's modern structures are currently earning Leadership in Energy and Environmental Design (LEED) credits with the latest, high-quality masonry products. On average, concrete masonry units (CMUs) can reduce greenhouse gas emissions by 3 to 5 percent when compared to wood, with lower heating and cooling costs. The highest-performing insulated masonry systems available on the market have been shown to exceed most stringent code requirements by delivering thermal performances rated at R-16.2.
Prolonged building stability
In addition to adding an extra layer of moisture protection to a building's façade and increasing its energy-efficiency, ventilated rainscreen wall systems have been shown to prolong the life expectancy of new and upgraded facilities. Reducing decay and peeling of paint are just a few of the advantages. The stable temperatures produced within the air cavity can also help to:
reduce structural movements that cause cracks and other structural integrity problems;
prevent noise pollution through the addition of layers of acoustic insulation. Some systems even offer a sound transmission class (STC) rating of 61 dB as per testing done in accordance with ASTM E90, Standard Test Method for Laboratory Measurement of Airborne Sound Transmission Loss of Building Partitions and Elements, meaning even loud sounds like stereos, lawn mowers, or traffic cannot be heard from within the building;
greatly reduce or eliminate maintenance costs since the dense, tight surface structures of the system's natural stone veneers are easy to clean and resistant to deicing salts and chemical cleaners;
enhance the life expectancy of the building's façade, which is shielded from moisture and other extreme weather conditions; and
withstand wind speeds up to 225 km/h (140 mph) depending on building parameters and the materials used in accordance with ASTM E330, Standard Test Method for Structural Performance of Exterior Windows, Doors, Skylights, and Curtain Walls by Uniform Static Air Pressure Difference.
Creating effective air barriers
Rainscreen wall systems also help eliminate air leaks which enable humid air to deposit moisture on cold surfaces creating mold, decay, and bulk water risks. Therefore, the wall's air barriers are among the most critical components of a rainscreen's assembly as they provide an important  critical line of defense against water infiltration.
Without the barrier, air can easily migrate through the system to deposit large quantities of vapor within its walls and then condense to create severe water-related issues. Air barriers stop the flow of air in the wall assembly, no matter if caused by wind or pressure differentials between the building's interior climate and outside weather conditions. They achieve this by directing the air and water that bypasses the external cladding toward the bottom of the system, where it can drain and then evaporate into the surrounding environment.
Sun protection
Almost all forms of concrete and masonry suffer the harmful effects of the sun unless properly designed and treated. Over time, the constant barrage of ultraviolet (UV) rays and heat can combine to break down the material's polymers and other bond chains. This can result in the production of a fine dust or powder on the masonry surface, not to mention fading of inferior products.
Made from cement, aggregates, and water, CMUs are versatile, strong and durable, as well as ideal for shielding building faces from problems while remaining lightfast for decades. In fact, some manufacturers even cure and heat treat their units with a thermoset glazing compound permanently molded onto the product's surface with a gas-fired tunnel kiln to further secure their masonry from the sun.
Architectural choices are virtually unlimited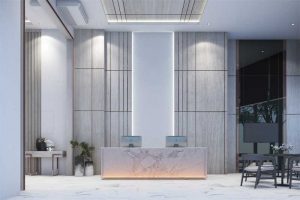 The strength of concrete matched with the design versatility of stunning architectural choices make rainscreen wall systems designed with CMUs a premium choice for strong, beautiful buildings. The architectural options are virtually unlimited given the hundreds of styles, finishes, textures, and colors from which to choose. Another advantage is many products can be seamlessly designed into high-performing rainscreen wall systems to create impenetrable moisture barriers to aesthetically complement nearly any architectural or aesthetic style.
Built for the control of moisture and severe weather events
With today's rainscreen wall systems, water management strategies have advanced over time from simple, single-layer barriers this can be breached by environmental elements to multi-layered, water-resistant membranes that improve energy efficiency and prolong stability.
These results have been achieved in many cases through the combination of specifically engineered components that form total cladding solutions.
This process often starts with pocketed and profile-molded expanded polystyrene (EPS) insulation panels affixed to studs or steel building frameworks with stainless steel anchors and screws. Channels in the front and back are then inserted into the high-performing wall system to drain the water or moisture that infiltrate the wall. Another layer of protection is provided by the water repellant additives integrated directly into the block and mortar. Once the wall system's foundation is complete, the masonry stones are applied with pumped mortar ensuring the structure's near-impenetrable design.
In many cases, these insulated concrete masonry systems (ICMS) deliver unmatched masonry thermal performances rated at R-16.2 and efficiency levels exceeding the most stringent code requirements.
The future of natural-look veneers
Many leading rainscreen manufacturers are working in unison and with the newly formed Rainscreen Association of North America (RAiNA) to better assess and advance rainscreen materials and assemblies. In recent years, this has led to widespread introduction of carrying systems and innovative products that enable faster, more economic assemblies.
Among these have been the development of thinner stone panels for greater economy, lighter construction and improved appearance. Examples include the introduction of 25-mm (1-in.) veneers custom made from a mixture of white Portland cement combined with fine aggregates to create dense, long-lasting, and durable masonry products with aesthetic textures similar to natural limestone.
Proper design and installation
High-performance wall systems and rainscreens have become increasingly popular for their ability to protect the façades of commercial buildings from the elements, optimize energy performance levels, and enhance the structure's safety and comfort. Of course, the key is always in the quality of the design and rainscreen assembly, which can make the difference between decades of durability and years of moisture-related problems.
Endnotes:
[Image]: https://www.constructionspecifier.com/wp-content/uploads/2021/09/CS-Image-1.jpg
National Centers for Environmental Information (NCEI): https://www.waterdamageadvisor.com/storm-damage/statistics/
expected to reach $60.75 billion worldwide by 2025: https://www.grandviewresearch.com/press-release/global-rainscreen-cladding-market
Journal of Architectural Engineering: https://ascelibrary.org/doi/abs/10.1061/%28ASCE%29AE.1943-5568.0000224
[Image]: https://www.constructionspecifier.com/wp-content/uploads/2021/09/CS-Image-3-1.jpg
Occupational Safety and Health Administration (OSHA): https://www.survivingmold.com/resources-for-patients/mold-symptoms/what-is-a-water-damaged-building
[Image]: https://www.constructionspecifier.com/wp-content/uploads/2021/09/CS-Option.jpg
[Image]: https://www.constructionspecifier.com/wp-content/uploads/2021/09/CS-6-Orlando-Hospital-ER-Entrance-rainscreen.jpg
lower energy costs by 30 to 40 percent: http://wfmmedia.com
[Image]: https://www.constructionspecifier.com/wp-content/uploads/2021/09/CS-Image-2.jpg
[Image]: https://www.constructionspecifier.com/wp-content/uploads/2021/09/Vaughan_HeadshotC.jpg
Source URL: https://www.constructionspecifier.com/durability-with-rainscreen-masonry-wall-assemblies/
---