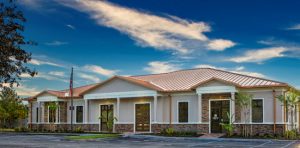 When the Florida Roofing & Sheet Metal Contractors Association (FRSA) designed its new headquarters in Orlando, Florida, they knew it needed to be built with materials that were energy-efficient, code-compliant, and long-lasting. To ensure a durable exterior, they turned to coatings and component finishes made with resin-based architectural coatings and polyvinylidene fluoride (PVDF) resin.
"As a leading trade association, we wanted to make sure the building represented the roofing industry in a positive way," said Lisa Pate, executive director, FRSA.
Pate also added they were familiar with the finishes and knew it would be aesthetically pleasing and provide the durable protection they needed for their roof and gutters.
Emulsion coatings technology
The coatings contain a water-based resin that does not need to be baked at temperatures over 191 C (375 F), making it ideal for air-dry, field-applied coatings. The premium, weather-resistant coating can be easily applied to a variety of substrates, including metals, plastics, concrete, fiber cement, stucco, exterior insulation finishing system (EIFS), and previously painted surfaces.
The use of water-based resin and complex inorganic pigments gives the coatings the ability to resist film erosion, chalking, and fading caused by harsh ultraviolet (UV) exposure, said Erin Neff, director of marketing and business development for the coatings manufacturing company.
"Degraded and faded paint is so commonly seen throughout Florida, which is one of the harshest environments in the country," Neff said.
According to the project's coating contractor, Jamie Stewart of Stewart Painting in Eustis, Florida, the coating has application advantages as well.
"It brushed and rolled onto the surface easily and provided excellent coverage. Plus, it was 'clean' out of the bucket, unlike other coatings I have used that contain clumps or sediment."
Through multiple tele- and video-conferences instead of in-person visits prohibited by the COVID-19 pandemic, the coatings manufacturing company worked together with the coatings distributor to conduct site and substrate evaluations to specify the coating chemistry needed, as well as provided guidelines for surface preparation, coating mock-ups, and inspections. Soft sandstone was used for the stucco and colonial white for the trim.
"Watching all the components of the building come together was educational and informative," Pate said. "Each of the companies involved was amazing in their support. Our new building is beautiful, functional, and a first-class facility to take FRSA into our 100th year and beyond."