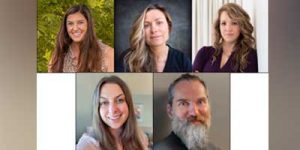 Architectural and interiors firm Dyer Brown has recruited five members to key positions within design studios at its Boston, Massachusetts, headquarters and its southeast U.S. office in Atlanta, Georgia.
Darrin Hunter brings to his new full-time role over 20 years' experience as an architect, photographer, educator, and experiential graphic designer. A long-time consultant for Dyer Brown, he continues to provide clients with contributions in branding, identity design, environmental and experiential graphic design, digital and wayfinding design, photography, typography, and videography.
Anna Dockery comes to her new role as senior interior designer with 15-plus years of experience in design, sales, and business development. In various roles including director of design and design principal, she has amassed a portfolio of projects in the workplace, retail, residential, and hospitality sectors. For Dyer Brown, Dockery will focus on clients and projects in the workplace studio.
Samantha Worth joins Dyer Brown as an interior designer focused on workplace projects, bringing more than a decade of professional experience to the table. Before completing her bachelor of science in interior design and sustainable design, magna cum laude, from Endicott College, Worth spent a semester studying abroad at Florence University of the Arts. There, she acquired important skillsets related to lighting design and 3D digital design and rendering. Her professional portfolio includes work in both residential and workplace, with a focus in the technology and financial sector.
Liz Rogal comes to Dyer Brown with a master of interior architecture from Endicott College, joining the firm as a junior interior designer. Her work experience includes time spent in the finance sector and the art world, in addition to several years of work as an interior designer for a firm in the academic, hospitality, residential, and life sciences sectors. For Dyer Brown, Rogal will concentrate her efforts in the Asset Design + Support studio for the firm's owner, manager, and developer clientele.
Katie Moulder joins Dyer Brown's southeastern U.S. office as an interior designer and project manager. A graduate of the Art Institute of Atlanta, her expertise in the workplace and hospitality sectors is complemented by experience in design for industrial projects, adding to the firm's combined acumen. Moulder has already made herself indispensable to Dyer Brown's clients in the workplace and institutional sectors in and around Metro Atlanta.