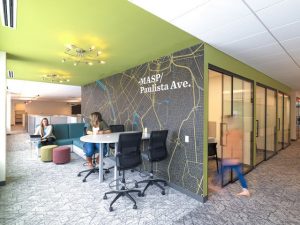 Architecture and interiors firm Dyer Brown has completed a major new headquarters for global market intelligence and data analytics provider International Data Group, Inc. (IDG) in Needham, Massachusetts.
The new, 11,613-m2 (125,000-sf) workplace consolidates the company's three distinct business units—IDC, IDG Communications, and primary corporate entity IDG—under one roof, with each division housed on its own floor, custom-designed to accommodate each group's particular activities and workflows.
The workplace includes a brand-inspired setting and innovative solutions for employee productivity and wellness. The reimagined interiors also present original environmental graphics and state-of-the-art spaces for video, broadcast, and podcast production. Accommodating more than 500 employees, the company is expected to move into the new headquarters later this year.
"To best serve IDG's unique culture and operating needs, a 12-person steering committee including representatives from each business unit and several of the company's executives collaborated with the project team to ensure a successful and effective headquarters design," said architect Ashley Dunn, AIA, director of workplace for Dyer Brown.
Occupying three floors of the modern facility, the new workplace dedicates roughly one floor per business unit, with programming of the L-shaped plan tailored to suit the unique culture of each. For example, leaders of the more tech-focused IDG Communications, publishers of MacWorld among other titles, expressed their preference for an open-plan office, with clean rows of workstations interspersed with huddle spaces and collaboration zones. On the third floor, on the other hand, the corporate umbrella group IDG requires an executive board room and enclosed offices.
Uniting the workplace at the elbow of the floor plate are common zones and public-facing amenities, starting with an entrance lobby also serving as a pantry and break area. Some shared centralized services are located together for efficiency and coordination, such as the human resources center, which has offices for all three divisions together on the first floor.
Also unifying the three divisions, an imaginative installation of Dyer Brown-designed environmental graphics celebrates the company's worldwide operations.
"The idea from IDG leadership was to create a space that reflected their identity as a 'house of brands' rather than a 'branded house,'" said Dunn. "So, while there is an overarching design concept, each floor is distinct from the others in notable ways."