E-book makes the case for specifying integrated doors
by Cindy Macdonald | June 11, 2018 3:15 pm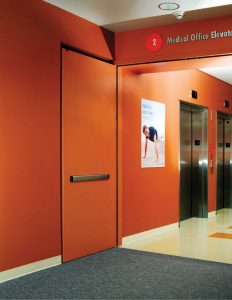 As specifying and installing doors and hardware has become increasingly complex, integrated doors have emerged as a popular solution, making it easier to select and install the correct product for many types of openings.
Integrated doors may appear to have a higher price tag than openings specified with the door and hardware purchased separately. However, calculations should also consider installation costs, time savings, and any reworking for code-compliance issues or improperly installed products.
A discussion of how integrated doors make the specification, purchasing, and installation process more efficient is one of several articles in The Construction Specifier's downloadable ebook, "Step into the World of Specialty Doors."
The magazine's series of sponsored e-books continues with a look at the design and specification of specialty doors for both interior and exterior applications. From case studies to discussions of codes and standards, this curated collection of technical articles from The Construction Specifier looks at specialty doors from all angles.
Read about how construction performance standards apply to interior doors, including architectural wood doors. In addition, the e-book explains how door and hardware selection can reduce noise levels, increase security, and improve patient safety in healthcare facilities.
For demanding applications, this collection also covers how steel doors can meet the requirements of storm shelter standards and hurricane-zone building codes, as well as provide blast protection.
Download the "Step into the World of Specialty Doors" e-book in two different formats—pdf or digital edition—by visiting https://www.constructionspecifier.com/ebook/krieger-step-into-the-world-of-specialty-doors-e-book[1]
Endnotes:
https://www.constructionspecifier.com/ebook/krieger-step-into-the-world-of-specialty-doors-e-book: https://www.constructionspecifier.com/ebook/krieger-step-into-the-world-of-specialty-doors-e-book
Source URL: https://www.constructionspecifier.com/e-book-makes-the-case-for-specifying-integrated-doors/
---