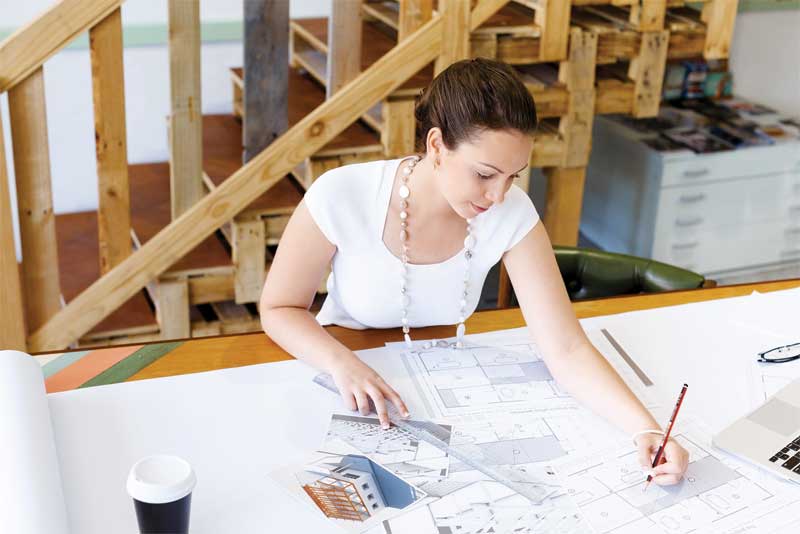 Mind the gaps
Installing an acoustical door with a sufficient STC rating is an important first step toward achieving acoustical control, but it is only part of the solution. As mentioned, the smallest opening can allow an enormous amount of sound to travel through even the highest-rated acoustical door. Put simply, gaps guarantee noise.
Successful sound control requires any gaps around a door's perimeter must be sealed with gasketing providing a complete, uninterrupted airtight seal around the head, jamb, and sill. Head and jamb gaskets must work together with sound-rated door bottoms, which should close on solid, flat surfaces like marble or aluminum thresholds.
One of the most frequently overlooked sources of gaps is carpeting, as it allows sound penetration through its fibers. Imperfect alignment is another common cause, even in newly installed gasketing. Problems can also arise over time as buildings shift and settle and doors are exposed to seasonal changes in temperature and humidity. One solution is the use of adjustable gasketing, which allows easy modification using a screwdriver to close any gaps in clearances and restore sound-tight seals. Doorframes can also be treated with a special coating inside the frame to improve total STC performance, but it is more critical they are installed correctly to avoid sound transmission. Flanking noise—noise that indirectly penetrates the opening through and around walls, floors, ductwork, and similar—is also an issue. These types of noise sources should be addressed in the building design and are another reason sealed-in-place STC ratings are far less accurate than what is likely to be measured in the field.
Quality matters
Use of appropriate gaskets is critical for achieving an effective STC rating as close as possible to the door's published rating. However, as with any product, there are significant variations in quality of materials and designs. Lower-quality gaskets will deliver lower-quality results, measured in disappointing STC performance. Designers and consultants should ensure only high-quality gaskets are used with their sound-control systems. Compression seals extruded from high-quality neoprene are essential for basic gasketing integrity, and supplemental seals can be invaluable in helping compensate for the effects of common variances in installed clearances.
The ultimate goal is to ensure that sound-door perimeters are sealed systems that can continue to function properly through thousands of cycles over many years. In assessing gasketing quality and design for optimal durability and service life, as well as STC performance, it is important to seek:
high-quality neoprene with consistent density and solid footing in gasket housings;
consistent quality in the housings themselves and any moving mechanisms;
adjustable features to offset alignment problems and help compensate for poor installation (Available adjustable solutions range from high-
end head and jamb gaskets with built-in sound-deadening material [used as a stop] to lighter-duty models designed for use with standard-profile hollow metal frames incorporating a stop.); and
mounting brackets and other options designed to eliminate the need to cut into gasketing when installing closers or other hardware items.
In all cases, providing precise specifications for required elements minimizes potential for errors due to inferior materials or mismatched components. This raises the somewhat controversial question of where exactly gasketing should be specified. The most basic answer is it depends on the manufacturer and needed sound rating. If the project requires an STC in the 30s range, there is flexibility in selection of gasketing manufacturers, and the gasketing may be specified in section 8710. However, if STC ratings are in the high 40s and 50s, they are then typically furnished by the door manufacturer, and the relevant specifications should read "gasketing by door supplier."
No matter where the gasketing 
is ultimately specified, the most important factor is confirming it has been tested with the unit to ensure test documentation is available. However, the most-effective way to ensure proper performance in the field is to minimize the variables that can affect door functionality. Engineered assemblies with acoustical gasketing, tested as a unit, provide full accountability through a single manufacturer and its installers, as all components are engineered and tested as one system. This can be particularly useful for high-demand sound control, as well as all applications where performance to precise STC levels is needed.