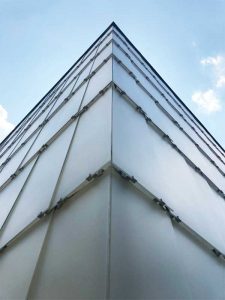 by Thomas Renner
The impact of buildings on the environment is surprising, but nonetheless, critical. Buildings consume 40 percent of the globe's energy use and are responsible for 40 percent of emissions both worldwide and in the United States. More and more buildings, new and old, are transitioning to low-carbon/carbon-neutral construction. Everything from residential flats to commercial high-rises is being specified with sustainability in mind. The United Nations' goal is to transition to zero emissions by 2050. The focus is more in the urban areas, where experts predict over 66 percent of the population will reside in 2060.
What does this mean for architects and specifiers? Well, for one, change. Many are already adapting. With several government entities and groups pushing to address climate change, there is no more stalling. Change is coming, and it is going to be swift, certain, and enduring. Maybe, after years of fits and starts, the movement toward energy-efficient construction will have the staying power of a marathon runner.
"It has taken different priorities over the years," said Daniel Overbey, AIA, director of sustainability at Browning Day in Indianapolis. "We have become aware of just how much global warming and greenhouse emissions come from the building sector. It is a huge piece of the pie, and if we can do something about it, now is the time. Dollar for dollar, the best place to invest is in the architecture. We now have the tools that can see in real-time the relative difference in performance."
The 2030 Challenge
The genesis of the movement for environmentally friendly architecture started out, oddly enough, on the basketball courts of Pratt Institute in Brooklyn in the 1960s. Edward Mazria, who was recruited to attend the school because of his on-court prowess, decided to enroll in the school's architecture program.
Mazria spent his career in the industry, and has established himself as one of the leaders in architecture and renewable energy. In 1979, he published the Passive Solar Energy Book, which is still in use worldwide.
A transitional moment occurred in 2003, again in an unlikely setting. During a visit to Disneyland with his family, Mazria was reviewing material and saw a graphic that leaped off the page.
"I discovered the built-in environment is responsible for 70 percent of all greenhouse gas emissions globally," Mazria said in an interview with the nonprofit Encore. "Once I discovered that, Architecture 2030 was born."