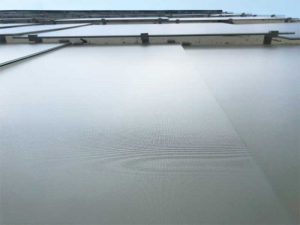 A nonprofit, Architecture 2030's predominant objectives are to achieve a dramatic reduction in the energy consumption and greenhouse gas (GHG) emissions of buildings, and advance the development of sustainable, resilient, equitable, and carbon-neutral building communities.
"Once I discovered that we in the building sector were the driving force in greenhouse gas emissions, I asked are we going to do business as usual or are we going to address an issue where the planet is at stake," Mazria explained.
Mazria closed his architecture practice in 2006 and is now the CEO of Architecture 2030. He has developed the "Roadmap to Zero Emissions," and is currently working with cities across the U.S. to develop pathways for dramatic GHG emission reductions by 2050. While Mazria is not the only architect to connect the dots between buildings and energy performance, he is one of the most universally acclaimed for his pioneering work.
"What Ed discovered was a big piece of the pie," Overbey said. "What we discovered in the architectural and building community is just how much global warming and greenhouse emissions come out of the building sector."
Change is coming
In September 2020, the U.S. House of Representatives reviewed 150 amendments related to clean energy. The proposals included items such as:
$1.2 billion in funding for a Home Energy Savings Retrofit Rebate Program at the federal and state level;
$100 million to grant states funding to improve energy efficiency in public buildings; and
$225 million for the Energy Department to assist states in implementing building energy codes.
The bill also includes funding for renewable energy.
The UN is tackling the problem, too. In a 2020 report, the UN said emission from the material cycle of residential buildings in G7 countries and China could be reduced by at least 80 percent in 2050 through a series of material efficiency strategies. The panel's modeling unit said greenhouse emissions could be reduced by 350 million tonnes in China, 270 million tonnes in India, and by 170 million tonnes in G7 countries between 2016 and 2060 by designing with alternative materials.
The world has taken note of the building industry's impact on the environment, and unlike previous concerns, there is a commitment to aggressively tackle the issue.
Identifying the problem, however, is only the first step. Rolling up the sleeves, delivering the details, and manufacturing the necessary components are the hard parts. That is where architects, construction teams, and suppliers come in and work with building owners to meet their needs while addressing net-zero strategies.