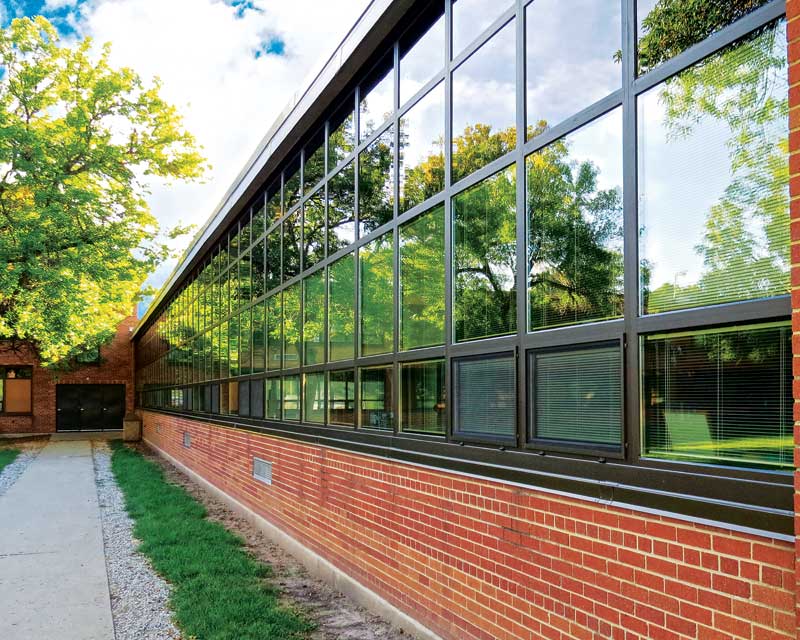 Thicker glass
In general, use of 'unbalanced' IGUs—where the exterior and interior lite are of different thickness—improves both STC and OITC by reducing the effect of resonance. In one recent side-by-side test of an IGU employing unequal glass thickness at the interior and exterior lite, STC performance improved by 5 dBA and OITC by 3 dBA versus a balanced, symmetrical IGU. In this test, the outboard lite simply was increased from 6 to 8 mm (1/4 to 5/16 in.), which was a very cost-effective performance improvement strategy.
Once options for unbalancing glass thickness have been exhausted, adding mass by using significantly thicker glass can be the most expensive—yet most effective—means of improving acoustic performance for windows or curtain walls. It should be considered only when previously mentioned options do not suffice. Depending on the application, thicker glass can have either a positive or negative effect on coincidence effect and, therefore, acoustic performance.
Framing systems
Beyond ensuring an airtight assembly, there is little a curtain wall or window system designer can do to change the inherent acoustic performance of a given glass/air space combination at a given size. Acoustic performance—as measured by a low-frequency-dominated OITC rating—is generally unaffected by the following:
framing mass;
frame cavity insulation;
presence/absence of thermal breaks and vents; and
glazing gasket design. (High-frequency sound absorption using between-glass acoustical foam is helpful in increasing STC only when deficiencies are predominantly in frequencies above 1000 Hz. OITC is typically unaffected.)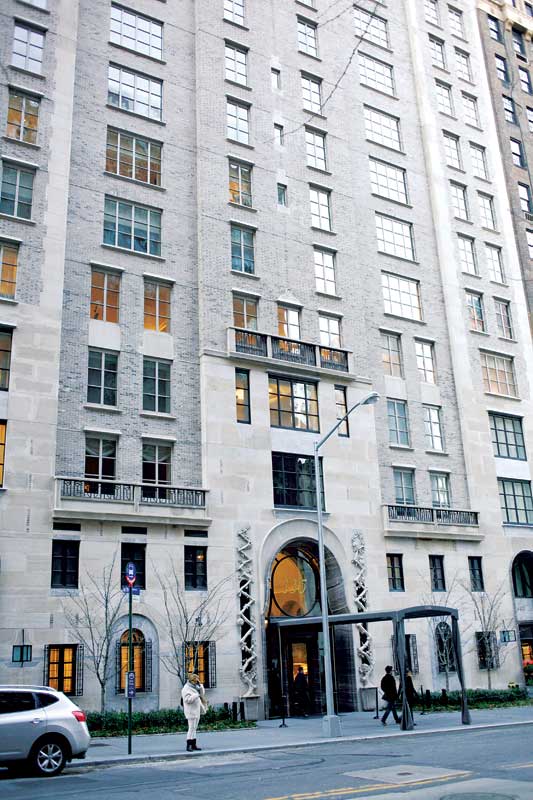 For similar glass makeup, glass lite size, and aspect ratio, there will be similar performance for windows and curtain walls.
Since there are no commonly used computer modeling tools for estimating acoustic performance of frame-glass combinations, both specifiers and manufacturers are forced to make product-selection judgment calls from experience and archival evidence. Due to variations, existing test reports should be accepted by the specifier as proof of compliance for previously tested frame/glass combinations, even if results or exact compositions vary to a small degree.
Compliance verification
As no window or curtain wall manufacturer could practically pre-test every possible frame/glass combination for a broad product offering, provisions should be made for job-specific acoustic testing, or for evaluation of existing test reports by acoustical consultants. The complex physics associated with multi-layer fenestration systems of different sizes, containing many materials and complex three-dimensional geometries, makes an empirical approach necessary when required performance is compared with past test results.
To make acoustic performance guarantees relative to future job-specific test results, manufacturers can be forced into expensive overdesign. Such guarantees are not in the project's best interests. Working together early on, the design professional, acoustical consultant, and manufacturer can select or design the right product for the needs of the project.
Conclusion
When designing a quality interior environment, excluding exterior noise can become a necessity. Windows and curtain walls are often the weakest link, acoustically speaking, in envelope design—therefore, they are the focus of sound attenuation strategies. A successful, cost-effective solution to the problem of excess noise requires detailed project specifications and a thorough understanding of the physics of different glass/air space combinations.
Steve Fronek, PE, leads Wausau Window and Wall Systems' new product development, marketing, field service, technical support, and general research. A past-president of American Architectural Manufacturers Association (AAMA), he has served on many of its committees and task groups. Fronek chairs the Apogee Enterprises' Technical Council and is a LEED Green Associate. He can be contacted via e-mail at sfronek@wausauwindow.com.