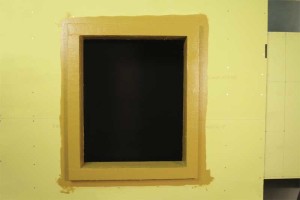 According to International Code Council Evaluation Service (ICC-ES) reports, drainage mats are among the materials providing superior drainage efficiency in typical wall assemblies. (One example is International Code Council Evaluation Service [ICC-ES] Acceptance Criteria [AC] 356, Moisture Drainage System Used with Exterior Cement Plaster or Adhered Masonry Veneer Walls.) Manufactured as roll or sheet material for application over the drainage plane and behind manufactured stone and thin brick-veneer wall assemblies, the mats include rigid polymer sheets and tangled-filament polymer materials.
Both types allow water vapor to move freely through the drainage mat layer, which accelerates drying. They also provide for a consistent air break to separate inward vapor drive from the sheathing and structure. Finally, the drainage mats provide ventilation for drying while also helping to prevent clogging of the drainage/drying area from scratch coats and mortar.
A systems approach
A review of industry literature, lab testing, field experience, and expert comment confirms effective designs of adhered masonry veneers should include an air gap and drainage cavity behind the claddings to improve durability and reduce moisture-related issues—always in tandem with design details that keep water out of the wall in the first place. A well-defined air space and an effective means of drainage—as well as a compatible and effective air barrier and WRB—create a more comprehensive system for adhered masonry veneer construction. The ideal solution should include compatible materials, straightforward application techniques, and a track record of use with thin brick, adhered masonry veneer, and other similar absorptive claddings.
Recently, several manufacturers have developed components or assemblies to specifically incorporate an air barrier, WRB, and drainage medium in a design preventing water accumulation and capillary action for use behind absorptive claddings. Some also allow for the inclusion of ci, as desired by the project team or required by code. Certain cavity-wall systems provide for a waterproof air barrier, drainage, and ci in single, multi-component systems that are assembly tested to meet typical energy and fire codes.
Installed over wood frame, concrete masonry unit (CMU), or light-gauge steel, the cavity-wall system has a waterproof air-barrier membrane fluid-applied over the backup wall assembly to create a continuous air barrier and WRB plane integrated with transition membranes at all penetrations and interfaces. This is followed by a continuous layer of extruded polystyrene (XPS) insulation that is covered with a tangled-filament drainage mat; masonry veneer cladding is adhered to complete the enclosure.
The tangled-filament drainage mat facilitates moisture escape between the protected substrate and the cladding. Should water reach the area between the substrate and cladding, it can drain from the wall assembly via the drainage mat, which also helps speed the drying of moisture-laden air (water vapor) that can accumulate. In this way, cavity-wall systems provide the drainage plane, drying space, and continuous barrier to water migration as needed to protect the building sheathing and structure.
The cavity wall offers other benefits. For example, some systems carry code approvals or have been tested according to the National Fire Protection Association (NFPA) 285, Standard Fire Test Method for Evaluation of Fire Propagation Characteristics of Exterior Non-load-bearing Wall Assemblies Containing Combustible Components. In some situations, the cavity-wall systems also help ensure consistent application and detailing across one or more claddings, to help ensure the desired performance and mitigate risks with the integration detail that can be associated with the sequencing and coordination with multiple trades, integration detailing, and compatibility with multiple components.
Design recommendations
One of the most important considerations when designing to prevent moisture-related issues in wall construction is to prevent water intrusion through the use of fundamentally sound design details—such as rough opening protection and sill flashing beneath windows and doors. When installing sill flashing under a window, it is considered a fundamental principle of source drainage to direct water to the exterior in the event of a window leak.
Other examples of the source drainage principle include diverter flashing at roof/wall intersections, saddle flashing at low-to-high walls, flashing at floor lines, and deck flashing. All these strategies prevent moisture-related issues at these locations by re-directing water to the exterior in the event of its entry into the enclosure at some component or assembly.
Whether part of these systems or a built-up solution, the use of a minimum air space or drainage medium that creates an air space have been shown to improve the performance of absorptive claddings in resisting bulk water intrusion and inward vapor drive. Based on field experience and controlled testing, a number of conclusions can be drawn about the design of enclosures with adhered masonry veneer.
First, research shows one or two layers of asphalt-impregnated building paper, felt, or housewrap are not always effective on their own to mitigate the moisture issues in adhered masonry veneer. Though the water-resistant papers may provide an effective drainage layer, this can be compromised by contact with the manufactured stone cladding.
Second, the key to enhanced moisture protection of these walls is to ensure the use of a consistent air gap of at least 32 mm (1/8 in.) in depth. Joseph Lstiburek, M.Eng., PhD, suggests the main function of the air gap is to prevent hydrostatic pressure buildup across the water-control layer by draining the water that penetrates.
Third, a continuous air barrier is needed to prevent condensation caused by air leakage.