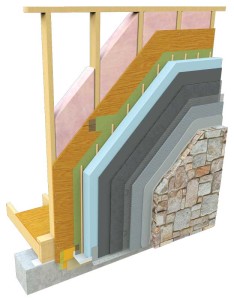 Additionally, a rain-managed wall should consist of four elements, which Lstiburek outlined as:
continuous drainage plane that is water-repellent, properly connected to flashings, window and
door penetrations, roof-wall intersections, and service penetrations;
drainage space between the cladding and the drainage plane;
flashings at every opening, penetration, or intersection; and
weep holes (i.e. openings to allow water to escape to the outside). (See "Water-managed Wall Systems" in a 2007 issue of The Journal of Light Construction by Joseph Lstiburek, M.Eng., PhD, P.Eng.)
Finally, the drainage space between the cladding and the drainage plane can be successfully maintained with a material layer such as a filament nylon mesh mat or, as an alternative, a rigid plastic profiled sheet, also called a dimple sheet. The filament nylon mesh material has been tested extensively, recently by the Masonry Veneer Manufacturers Association (MVMA) in a test assembly with two layers of WRB separated by a "polymer-entangled mesh" drainage mat, as well as a metal lath and scratch coat.
In the laboratory study, water penetration by wind-driven rain was evaluated based on ASTM E331, Standard Test Method for Water Penetration of Exterior Windows, Skylights, Doors, and Curtain Walls by Uniform Static Air Pressure Difference. No water was observed on the interior of any of the test wall assembly during a two-hour test using the mesh drainage mat. Other types of drainage materials were also successfully tested, including formed XPS insulation, polymer mats, and wood furring. (See Masonry Veneer Manufacturers Association's [MVMA's] Technical Bulletin, "Water Penetration Testing of an Adhered Masonry Veneer Wall Assembly.")
Successful wall assemblies include a continuous air and water barrier integral with flashings, air space, or an air space created by such drainage media as a filament nylon mesh. These designs limit moisture-related issues and improve the performance of commonly used absorptive claddings, including adhered masonry veneer products.
Conclusion
The challenges of adhered masonry veneers and other absorptive claddings used in residential and light commercial construction have been widely published. The primary negative effects—caused by humidity, rain, and wind—include poor drainage, inward vapor drive, and capillary absorption. The moisture problems have led to enclosure failures in some cases.
A critical review of industry literature, lab testing, field experience, and expert comment show the most effective design of adhered masonry veneers should include an air gap and drainage cavity behind the claddings to improve durability and reduce moisture issues. A fabric-faced, tangled-filament nylon drainage mat is shown to effectively promote drainage and drying in above-grade vertical wall assemblies beneath absorptive-type claddings, including adhered masonry and thin brick veneer. The filament drainage mats provide for both an air space and protected drainage plane and are also effective when used as part of a full cavity-wall system.
In addition to the issues caused by moisture damage in residential and light commercial construction, recent code changes have propagated the use of enhanced drainage and drying assemblies for adhered masonry veneer. These code changes are valuable—as are improvements to recommended practice—as they help reduce enclosure failures caused by moisture damage, which are costly and avoidable. By following the code changes in the 2012 IBC and IECC for WRBs, air barriers, ci, and drainage, it will help to ensure adhered masonry systems provide long and valuable lifecycles.

Jeff Diqui, Arch. Eng., CSI, is a building enclosure specialist with Sto Corp. He has more than 20 years of experience with forensic investigations related to moisture intrusion and structural problems, structural design, building condition assessments, development of repair/rehabilitation designs, and construction observations. Diqui is a consultative resource for architects, engineers, specifiers, building envelope consultants, contractors, and code officials related to heat, air, and moisture controls. He is a member of the Building Enclosure Council (BEC), Construction Specifications Institute (CSI), RCI–The Institute of Roofing, Waterproofing, and Building Envelope Professionals, and the U.S. Green Building Council (USGBC). He can be contacted via e-mail at jdiqui@stocorp.com.