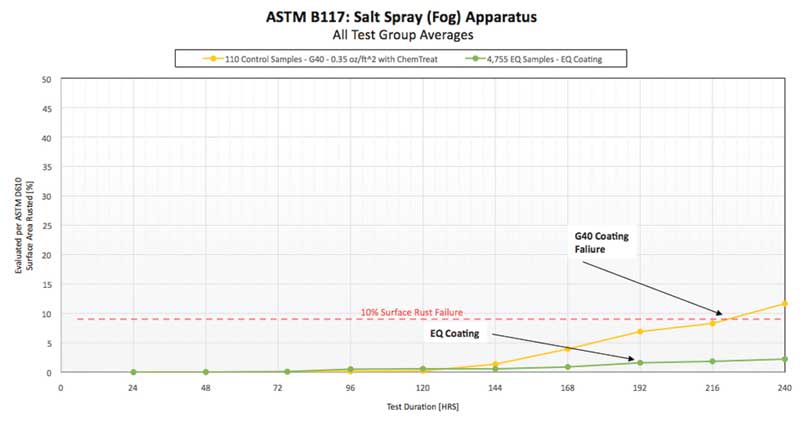 Misconception No. 4: All EQ coatings 
are the same.
All EQ coatings are not created equal. While high-performance EQ coatings have been referred to generically as 'thin organic coatings,' 'inter-metallic coatings,' or 'reactive polymer coatings,' they should never be referred to as 'paint,' 'primer,' or 'veneer.' (There is no specific definition for EQ coatings—the letters are generally accepted to mean 'equivalent' or 'equal.' In addition, any other standard metallic coating other than a G40—such as the AZ50 or GF30 used by some manufacturers—is considered an EQ coating so long as it is not a G40 and provides equivalent corrosion resistance in accordance with ASTM C645, par. 4.2. Both ASTM C645 and AISI S220 require marking what coating is on the studs if it is not a G40). As mentioned, EQ-coated products are far more advanced than simple surface treatments.
Not only do EQ coatings provide superior protection, but they are also competitive in the marketplace. This is because manufacturers who use EQ coatings are able to employ excess steel coils with a zinc-based coating that is typically not a G40 coating. The coating on the less-expensive excess steel coils is then enhanced through the application of EQ coatings. This takes material that otherwise would not be usable and makes it into 
a new product, thus saving energy and removing material from the waste stream.
Additionally, EQ coatings are able to be used in 
all types of interior nonstructural partitions, whether fire-rated or non-fire-rated. The properties of the coating on a stud are not considered when the structural properties of the stud are calculated. 
The properties are calculated based on the steel alone without the coating.
How to specify EQ coatings?
This article's purpose is to ensure design/construction professionals have accurate information regarding EQ coatings and their performance. If a specifier chooses to include EQ-coated steel studs in project specifications, here are the code-written rules to follow: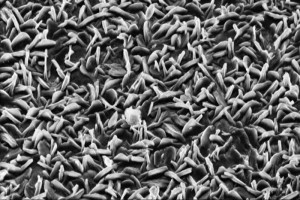 1. 
The applicable product standards are ASTM C645 for the 2012 IBC, or AISI S220 for the 2015 IBC. These standards define the stud steel sheet requirements, including minimum return lip, minimum prescriptive thickness or performance, and minimum section properties.
2. Steel framing members must use an ASTM A653 G40 coating or a coating that provides corrosion resistance equivalent to a G40 coating. Any coating other than G40 must demonstrate it provides equivalent corrosion resistance. Code Compliance Research Reports (CCRRs) are one way to demonstrate equivalence.
3. Manufacturers of steel framing members with EQ coatings should be able to supply a code report from an independent ANSI-accredited agency that certifies the coatings do in fact meet the ASTM C645 and AISI S220 equivalent corrosion protection requirement.
Following these guidelines will help ensure that the technical specifications direct contractors to use code-approved coatings and avoid the use of flimsy barrier coatings that, in all likelihood, get scratched, cut, and damaged on the construction site. EQ coatings have proven to be an innovation to embrace—one that is also clearly approved by the International Building Code.
Michael C. Kerner, FASTM, CSI, CDT, is code development manager for cold-formed steel (CFS) framing manufacturer ClarkDietrich Building Systems. With more than 35 years of industry experience, he is the immediate past chair of ASTM's Committee C11 on Gypsum and Related Building Materials and Systems, and is one of the two vice chairs of ASTM's Committee A05 on Metallic-coated Iron and Steel products. Kerner is an ASTM Award of Merit recipient, and a member of CSI and the International Code Council (ICC). He can be reached at michael.kerner@clarkdietrich.com.