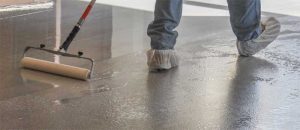 Moving forward
With reliable, cost-effective moisture mitigation solutions now available, some general contractors are realizing the extent of the benefits a moisture mitigation system has on projects, primary of which is the opportunity to reduce the construction timeline. The drying process in concrete starts the day the building is enclosed, and the HVAC starts running. Until this happens, the slab is subjected to water intrusion through weather conditions, water from other trades, etc. Once true drying conditions are achieved, the concrete will dry at a rate of 25.4 mm (1 in.) per month, so an 203.2 mm (8 in.) slab will take eight months to dry in optimal conditions. By installing a moisture mitigation system over green concrete, contractors are no longer beholden to the moisture content of the slab when scheduling flooring installation.
Developers are buying into these solutions because of the reduction in risk they represent. A cost-effective moisture mitigation system helps to avoid major budget impacts, timeline delays and the risk of litigation associated with unforeseen moisture problems. It is always easier to take care of a problem on the front end as construction will not have to stopped and the floor cleared to address the issue, which can take upwards of a week to resolve. The time impact alone pays for some of these newer one-component solutions.
Many products being developed in the finish world are no longer moisture sensitive. These are great alternatives, but as the problem is not addressed, the issue will need to be revisited when the floor covering is changed. Mold, mildew, finish and/or joint filler discoloration are also issues. With the introduction of reliable, affordable moisture mitigation solutions, it is possible to rethink the construction schedule and leverage a moisture barrier to reduce timelines and risk. Correcting the problem from the beginning may prove to be the best insurance policy that money can buy.