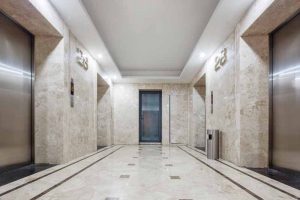 Merging NFPA and IBC standards
While understanding the unique needs and IBC code requirements for different types of elevators and hoistways is fundamental, there is more than one organization. The NFPA is a global nonprofit organization, established in 1896 and devoted to eliminating:
death;
injury; and
property and economic loss caused by fire, electrical, and related hazards.
Virtually every building, process, service, design, and installation is affected by NFPA's codes and standards—more than 300—and the organization has made significant progress in the area of smoke and fire protection with regard to elevator hoistway closures in commercial buildings.
This includes acceptance testing after installation as well as annual inspection, maintenance, and testing. New standards have been developed specifically for hoistway closures by NFPA 80, Standard for Fire Doors and Other Opening Protectives, technical committee and will be available in their upcoming publication.
Acceptance testing
Per NFPA 80 (Section 5.2.3, "Acceptance Testing"), acceptance testing of "smoke protective curtain assemblies" for hoistways must be performed by a qualified person with knowledge and understanding of the operating components of the assembly type. Before any testing occurs, a visual inspection needs to be performed to identify any damaged, field-modified, or missing parts that can create a hazard during operation or resetting.
Additionally, there are a number of items requiring verification during this stage, including:
labels;
mounting and assembly components;
hoistway smoke detectors; and
auxiliary hardware.
NFPA standards also require potential hoistway enclosures to have an average closing speed of no less than 152 mm (6 in.) per second or no more than 610 mm (24 in.) per second.
Installation
The organization mandates hoistway enclosures be installed in accordance with their listed manufacturer installation instructions. Naturally, they shall also be in accordance with American Society of Mechanical Engineers (ASME) A17.1, Standard for Elevators and Escalators.
Operational testing
Following installation, operational and drop testing is required in accordance with NFPA 80 Section 5.2.3, with all inspections and testing signed by a witness and kept for inspection by the authority having jurisdiction (AHJ) for the life of the assembly.
Periodic testing
Periodic testing is mandatory. Facility managers are required to have inspection and drop testing performed annually. This testing includes all of the items noted in NFPA 80, Section 5.2.4 "Periodic Inspection and Testing," comprising visual inspection, operational evaluation, drop test, and system reset (including any emergency power sources).
Maintenance
When specific maintenance actions are required, repairs and work are the owner or property managers' responsibility, and must be completed without delay. Only qualified professionals should make the repairs. If the unit is beyond repair or the original manufacturer's parts are not available, the entire assembly or appurtenance must be replaced.
Conclusion
For nearly five decades, the fire protection industry has looked at fire and smoke spread in tall buildings and sought code-based solutions. The use of fire sprinklers to control fire spread and smoke generation in high-rise buildings has reduced both property and life loss. When sprinklers are present, smoke has become the recognized killer in high-rise fires—its upward migration from a lower floor has become a greater threat to occupants than the fire itself. Innovation in compartmentation of the vertical openings of elevator shafts has evolved from the creation of lobbies to isolating the shaft at door openings on each floor.
The changes in fire and building codes are a result of the door industry looking to help solve the fire problem in high-rise buildings by employing innovative products at elevator openings. The integration of new materials into mechanical closure systems with the ability to withstand heat exposure from a fire has progressed rapidly in the last decade. The resulting win-win gives designers and building owners more cost-effective choices in the use of space that was once reserved for elevator lobbies.
To learn more, consult NFPA or ICC or contact a product manufacturer that has a specialization in hoistway enclosures.
David Dawdy, director of fire and life safety–new product development at CornellCookson, is a 35-year veteran of the overhead door industry. He is a fire protection code and standards specialist and trainer of Institute of Door Dealer Education and Accreditation's (IDEA's) Rolling Door Certification. Dawdy is a member of Door and Access Systems Manufacturers Association's (DASMA's) technical committee for rolling doors and windows, National Fire Protection Association (NFPA) 80, Standard for Fire Doors and Other Opening Protectives, technical committee, and Underwriters Laboratories (UL) standards technical committee. He attends the International Code Council (ICC) hearings as an advocate of fire protection standards. Dawdy also serves on the board of directors for the International Door Association (IDA) and chairs its technical and education committee. He can be reached at David.Dawdy@cornellcookson.com.