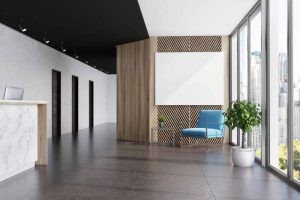 Different elevators, different standards
Since the first steam-powered lifts of the industrial revolution to high-speed elevator cars, vertical transportation has made life more convenient for riders around the world. It has also evolved to meet specific needs of building owners, occupants, and first responders.
Public passenger elevators are installed to serve all floors of a building or may have separate banks targeting exclusive floors, which requires multiple lobbies to protect the hoistway from the migration of smoke and other products of combustion. These are a good target for hoistway closures since they do not require the construction of lobbies in the design.
When public elevators need to be used for emergency evacuation, hoistway smoke closures are still an appropriate use based on 2015 IBC Section 713.14.1, "Elevator, Dumbwaiter and Other Hoistways," which states:
Enclosed elevator lobbies are not required where additional doors are provided at the hoistway opening…when tested in accordance with UL 1784 without an artificial bottom seal.
There are some IBC codes and sections architects and designers must be aware of, including Section 403.6.2, "Occupant Evacuation Elevators:"
Where installed in accordance with Section 3008, passenger elevators for general public use shall be permitted to be used for occupant self-evacuation. Where elevators are to be used for occupant self-evacuation during fires, all passenger elevators for general public use shall comply with Section 3008 (10 sections).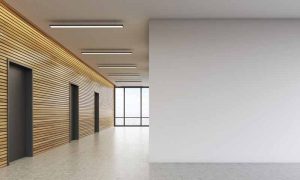 Since these types of elevators are intended to be occupant operated during evacuation periods, they must be in a 'hardened' shaft with a one-hour fire resistance rating up to four stories and two-hour rating above four stories. Additionally, occupant evacuation elevators require lobbies at all floors except the level of discharge, meaning there is no code provision for hoistway closures.
Unlike public passenger and occupant evacuation elevators, fire service access elevators (FSAEs) provide a capable and durable hoistway with the ability to operate for extended periods during a fire to aid fire fighters and emergency responders in assistance and rescue efforts for all occupied floors. FSAEs must serve all floors.
In buildings with an occupied floor more than 36.5 m (120 ft) above the lowest level of fire department vehicle access, no fewer than two FSAEs—or all elevators, whichever is less—shall be provided in accordance with Section 3007, "Fire Service Access Elevators." Each FSAE shall also have a capacity of not less than 1587.5 kg (3500 lb), shall comply with Section 3002.4, "Elevator Car to Accommodate Ambulance Stretcher," and must accommodate an ambulance stretcher.
Similar to evacuation elevators, FSAEs must be in a 'hardened' shaft with a one-hour fire resistance rating to four stories and two-hour rating above four stories. Typically, at least one FSAE is the building service elevator and usually runs in a separate hoistway core from public or occupant evacuation elevators. In buildings with the FSAE requirement, a second elevator can be designated as FSAE—this may be another FSAE or a public elevator.
FSAEs are also required to have an elevator lobby from the second floor up as long as the floor of discharge is sprinklered. Therefore, hoistway seals are not required in 2015 IBC 709.4.2, "Smoke-barrier Walls Enclosing Areas of Refuge or Elevator Lobbies," within FSAE lobbies.
Elevator lobbies are also not required where the elevator serves open parking garages per Section 406.5, "Open Parking Garages." They are not required at levels of discharge as long as this level is equipped with an automatic sprinkler system and wherever the hoistways open to the exterior.