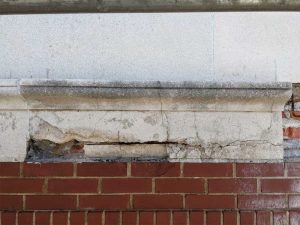 Although sometimes characterized as stone, cast stone is in fact a highly refined architectural precast concrete. Cast stone became popular in the United States and Canada in the late 19th century, with the rapid development of the Portland cement and concrete industries. Employed as a cost-effective alternative to building stone for architectural ornaments or wall claddings, the material is fabricated with various mixes to resemble different natural stone types. Cast stone has experienced a resurgence in popularity and is currently fabricated for both new construction and restoration work.
On the 1920s brick masonry building shown here, cast stone was used at the copings, cornice, belt courses, water tables, and window surrounds. The configuration of the cast stone units varied, from projecting cornice units to thin belt course units; the thin units were set in mortar against the brick masonry backup. Deterioration was observed in the form of surface erosion (i.e. weathering of paste and aggregate), crazing (i.e. fine hairline cracking), and cracking and spalling—particularly in the thinner units. Gentle sounding (tapping) with a mallet indicated delamination of the cast stone in areas of cracking. Where embedded reinforcement was exposed at spall locations, the reinforcing bars were found to be near the exterior surface of the cast stone and were corroded, indicating lack of sufficient cast stone cover to protect the steel.
Where water entered the cast stone through cracks or open joints, corrosion of embedded steel reinforcement and anchorage contributed to cracking of the adjacent cast stone. At some locations, cracking and spalling of the cast stone was severe (top image). Where severely deteriorated units were removed, the backup brick masonry was exposed, together with steel hairpin anchors, now corroded (bottom image). These pins may have been intended to help anchor the thin cast stone units; however, where observed they did not appear to be engaged in the cast stone unit but rather in the mortar parge coat against which the cast stone units are set, raising concern regarding their effectiveness in resisting negative lateral loads.
In the example shown, localized units were found to be severely deteriorated and could not be repaired. In this case, new cast stone units to match the original will be fabricated and installed. Analysis of the original cast stone has been conducted to develop an appropriate mix to match color and texture for the replacement units. The durability of new cast stone can be enhanced by fabricating the new units using the wet-cast method, incorporating air entrainment into the mix, and by developing quality control measures during fabrication.
Where deterioration is not severe, cast stone units can be repaired by procedures similar to those used with precast concrete. Embedded metals that are corroded should be exposed, cleaned, and coated with a rust-inhibitive coating system, or removed and replaced if necessary. New reinforcement or anchorage should be stainless steel, if possible. If patching is required, repair materials must be compatible with the original cast stone mix. Analysis of samples of the existing cast stone should be specified to achieve an aesthetic match. Like concrete repairs, patch repairs should be formed rather than trowel applied. Cleaning should use the gentlest approach possible. After repair or cleaning, clear penetrating sealers may be appropriate to reduce moisture infiltration in cast stone. Trial repairs should be performed for all work prior to overall implementation.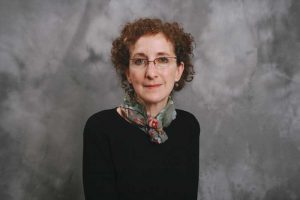 Deborah Slaton is an architectural conservator and principal with Wiss, Janney, Elstner Associates (WJE) in Northbrook, Illinois, specializing in historic preservation and materials conservation. She can be reached at dslaton@wje.com.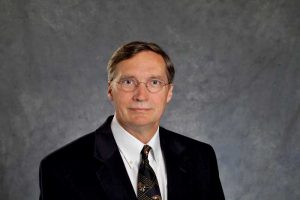 David S. Patterson, AIA, is an architect and senior principal with WJE's office in Princeton, New Jersey. He specializes in investigation and repair of the building envelope. He can be reached at dpatterson@wje.com.
The opinions expressed in Failures are based on the authors' experiences and do not necessarily reflect that of The Construction Specifier or CSI.