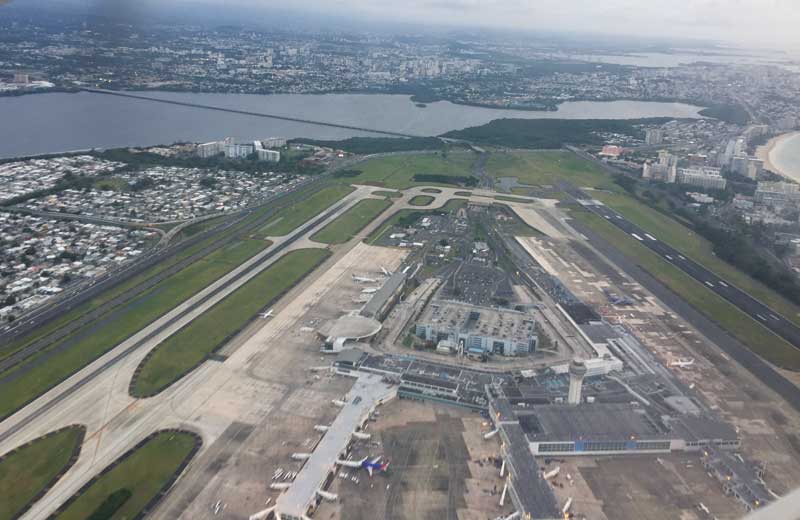 Phase 3–New floor drains
During the final phase of the project, a new system of floor drains was needed on the east side of the bridge to allow all surface water to discharge. For the drain pipe installation, the crew core-drilled the new drains and saw-cut and chipped out the drain ditch with a jackhammer. The new pipes were anchored and fixed with a fast-setting, high-strength, nonshrink grout. The multipurpose product is durable in wet environments, typically sets in 15 minutes, and is ready for traffic in one hour. The crew also added a corrosion-inhibiting additive to the grout mix.
The drain ditch was finished with a concrete resurfacer typically employed for damaged or discolored concrete. Like the V/O mix used for National University College, this product contains self-curing technology and generally sets fast without needing to be wet-cured.
The products were easy to mix, apply, and clean, and produced minimal waste—even with a constant breeze and temperatures soaring above 32 C (90 F). To keep materials from setting too quickly in the high heat, the crew used iced water and added two packets of set-retarding additive for every bag of product during the mixing process. Each product cured in two hours, allowing the crew to move to the next phase quickly.
"As a civil engineer working in roads and bridges, I have been using concrete repair products all my professional career," says Matos Ostolaza. "This is the first time I had the chance to work with a single-component product. The most significant advantage was the yield of the products; it really saved a lot of time and money. Multiple-component products cost you more and take more time to mix—and you always end up wasting perhaps 20 percent of the products."
Quick airport runway repairs between flights
Tourism typically plays an important economic role in regions with tropical climates, with infrastructure that must remain accessible during repairs and maintenance. San Juan Airport, known officially as San Juan Luis Muñoz Marín International Airport, is located 5 km (3 mi) southeast of San Juan. With four terminals and two runways, it is the busiest airport in the Caribbean, serving as a gateway both to the Caribbean Islands and the United States.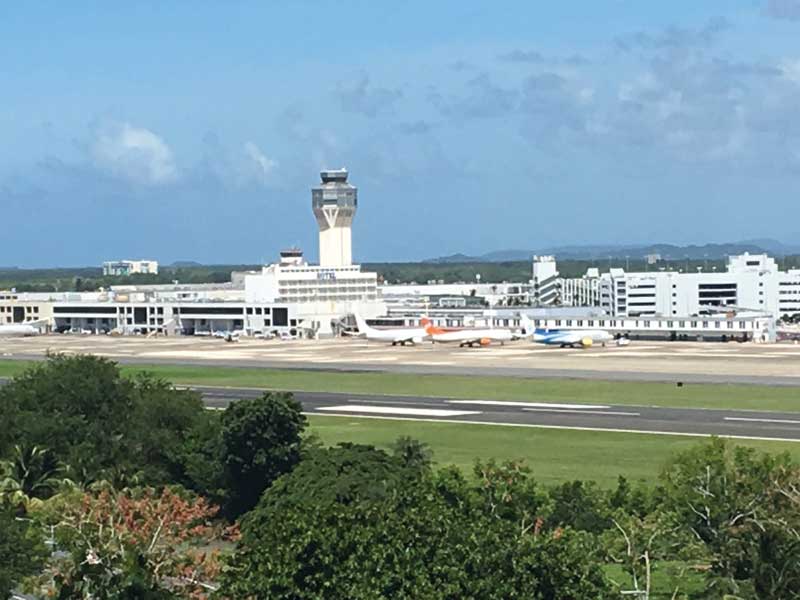 The airport's two runways had taken a fairly understandable beating over the years and eventually began to show signs of wear and tear, including slab fragmentation at curled joints. At least 4.5 m2 (50 sf) of deteriorated concrete surface was identified, with most of the damage located in the apron areas where planes stop to unload and load passengers.
In May 2016, Aerostar Airport Holdings, which manages the airport via a public-private partnership (P3), embarked on a year-long maintenance program to repair the runways without having to shut them down. The program's success relied on the maintenance crew's ability to quickly perform partial-depth concrete slab and joint repairs and return those repaired portions of runway to service within a two-hour window, so as not to disrupt scheduled flights. Only a fast-setting repair material could make this extremely tight turnaround possible.
Aerostar worked with the contractor to select a repair material capable of meeting the maintenance program's objectives. They chose a multipurpose repair mortar known for its rapid structural strength and long-lasting durability in harsh environments. The mix of rapid-hardening cement, specialty sand, and additives can also be extended with coarse aggregate, up to 100 percent by weight. Most importantly, surfaces repaired with the material require only one hour of wet-curing, and are ready for traffic and most loads within two hours.
The weather also played a part in the material selection process. Average highs stay within the high-20s to low-30s C (mid- to high-80s F) range most of the year, with average lows in the 20s C (70s F). Aerostar anticipated maintenance crews would often be working in temperatures from 29 to 33 C (85 to 92 F). The hot weather could cause the repair material to harden too quickly. In order to offset the high temperatures, the contractor included a set-retarding additive in the mix, giving crews more time to place and finish the material.
A flow-enhancing additive was also used to increase the fluidity of the mix while reducing the amount of water needed for increased strength and reduced shrinkage. When the additive is employed as a replacement for water, the same slump can be achieved with approximately 20 to 40 percent less mixing water.
Finally, training was critical to ensure all work and materials complied with Federal Aviation Administration (FAA) specifications for concrete repair. The contractor educated the airport's entire civil works maintenance crew on concrete slab-on-grade repair, and specifically on using fast-setting materials. Much of the training took place during a three-hour seminar.
Once all personnel were trained, Aerostar launched the runway maintenance program with great success. As was hoped, crews were able to return repaired areas to service in less than two hours.
Conclusion
Combating corrosion and working in wet conditions are constant struggles for concrete construction professionals in tropical regions, but these challenges can be easily overcome with the right concrete repair materials. Whether working around the wind, rain, cars, or planes, these project teams found using one-component, fast-setting hydraulic concrete products was an instrumental component of project success.
Guillermo E. Alvarez Cartañá, PE, is a new technologies construction consultant with AT Specialty Cements & Polymer Technologies in San Juan, Puerto Rico, a distributor for CTS Cement Rapid Set Products. He has provided consulting services with AT Specialty Cements for 15 years and has worked in the concrete construction and repair industry for nearly 30 years. Alvarez Cartañá works closely with industry leaders and project owners to provide support and solutions for projects such as high-rises, bridges, airports, wastewater treatment plants, and government buildings. He also has extensive experience with concrete flooring systems. Alvarez Cartañá can be reached via e-mail at atscements@gmail.com.