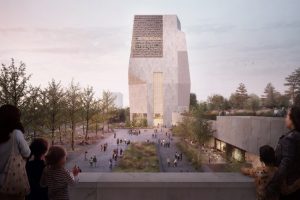 After years in the federal review process, the Obama Presidential Center project is in the final stages of approval.
Located at Jackson Park in Chicago's South Side, the Obama Presidential Center, proposed by the Obama foundation, will build a museum and a public gathering space that celebrates the nation's first African-American President and First Lady.
Since Jackson Park is listed on the National Register of Historic Places and federal funding is being spent on the Obama Center, the project prompted a Section 106 review, a provision of the 1966 National Historic Preservation Act. Section 106 "requires federal agencies to consider the effects on historic properties of projects they carry out, assist, fund, permit, license, or approve throughout the country," WTTW News reports.
Based on a briefing last week, "City Hall will not insist on replacement land outside of Jackson Park to make up for the [7.8 ha] 19.3 acres the complex will occupy," as per the Chicago Sun-Times. At present, it seems the reviews by multiple federal agencies mandated by the National Environmental Policy Act (NEPA) and the National Historic Preservation Act could be done and agreements signed by the parties by the end of the year.