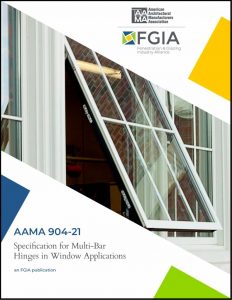 The Fenestration and Glazing Industry Alliance (FGIA) has released an updated version of a document with new test methods for multi-bar hinges in windows.
The document covers specifications and methods of test cover procedures, materials, and performance criteria for determining the durability of multi-bar hinges used for opening and closing casement, projected, and parallel opening windows.
"This document is one of the few of our organization's standards that does not reference an American Society for Testing and Materials (ASTM) test method. This test method was developed and implemented to address a life safety concern in the field.
This test method has been in use for over 20 years and is a shining example of how FGIA members volunteered their time and expertise to contribute holistically to the entire industry," said Chris Griffin (Roto Frank of America), co-chair of the multi-bar hinges in Windows Task Group.
AAMA 904-21, Specification for Multi-Bar Hinges in Window Applications, an FGIA document, is now available for purchase; it was last updated in 2014.
Since the introduction of the AAMA 904 in 2009, testing of multi-bar hinges in windows has been widely accepted by industry consultants and the specifying community.
With the advancement of technology, along with decades of experience and test data from a variety of materials and designs, this specification and these test methods have now been updated to reflect the current needs of the marketplace. Enhancement of performance and misuse loads helps to define the increase in performance for multi-bar hinges.