Filling the Gap: Considerations for specifying privacy partitions
December 2, 2016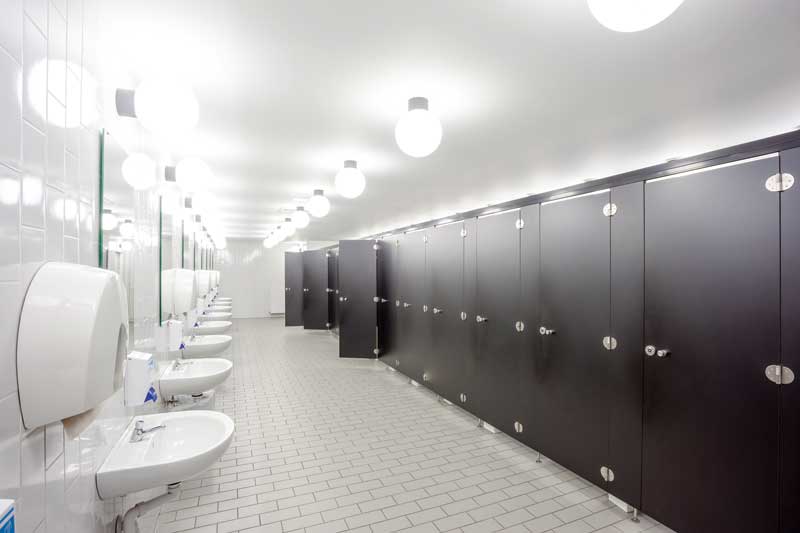 by Alan Gettelman
Changing social attitudes have prompted a nationwide trend toward gender-neutral and high-privacy restrooms in the United States, particularly for use in universities and commercial office facilities. This approach to public and institutional restroom design has been further reinforced by legislation, with more than 20 states—most recently, Massachusetts—passing laws aimed at protecting transgender individuals from discrimination. In May, all U.S. public schools were ordered to allow transgender students access to the restroom matching their identities.
While gender inclusivity has increased demand for multi-occupant restrooms that prioritize privacy, it is certainly not the only consideration contributing to the trend. Individuals with caregivers of the opposite gender have long requested restrooms that cater to all genders. Those who suffer from chronic health issues —such as diabetics who require injections and incontinent individuals who use colostomies—also consider privacy a non-negotiable issue.
Across demographics, restroom privacy is increasingly being seen as an amenity, for civil liberties, health, and personal reasons. As demand continues to build, architects and specifiers face new design challenges and considerations—for toilet partition design in particular. With each design challenge comes careful examination of the occupant experience, as well as aesthetics, durability, building codes, fire codes, and American Disabilities Act (ADA) regulations.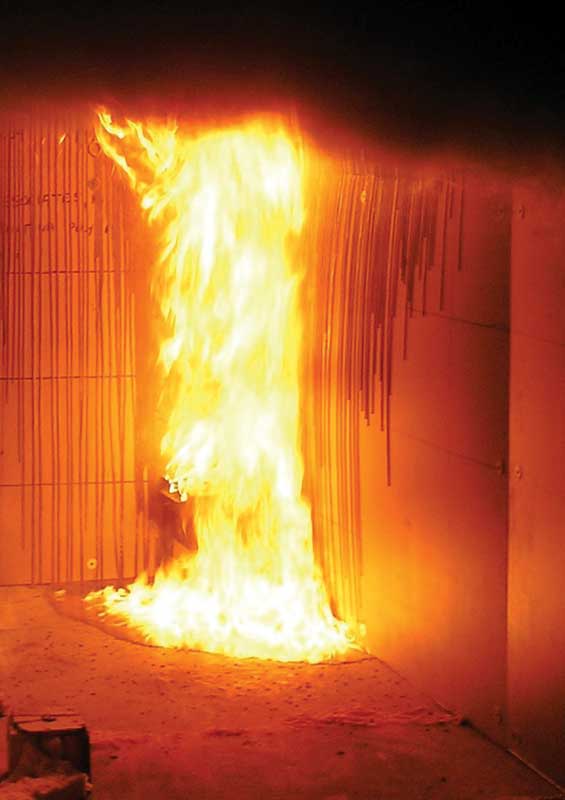 Selecting a privacy solution
A variety of solutions is available to building owners and facility managers looking to enhance restroom privacy. Most of these center on the toilet partition or compartment—the most critical factor in raising or lowering privacy levels.
Full-wall construction is one solution to this issue, as it effectively eliminates stalls in favor of private rooms. While full walls do offer the utmost privacy, implementation can be problematic in terms of cost, timing, and logistics.
New construction requires studs, drywall, tile, paint, and potentially expensive hardware. The installation process may also require realignment of fire sprinkler plumbing, as well as ductwork and ventilation. This not only increases project costs, but also has the potential to extend project timelines by amounts between two days and three weeks.
Full walls may also increase the restroom's footprint, as adjustments must be made to maintain ADA compliance and meet local building codes. These building codes, which vary by state and municipality, specify a minimum number of toilets based on building size and occupancy. Switching from a 13-mm (½-in.) thick partition to a 100 to 125-mm (4 to 5-in.) thick wall can usurp valuable real estate or reduce the number of available stalls.
Replacing toilet partition systems with gap-free, maximum-height, or floor-to-ceiling partitions is typically a more practical and cost-effective strategy for privacy. This solution has become increasingly popular, as it eliminates sight lines between doors and stiles at the front of stalls and those between stalls at dividing panels. Many configurations also create flush architectural styling across a series of panels, enhancing aesthetics and design continuity—particularly appropriate in prestige office spaces.
When the primary design objective is to increase privacy, gap-free and maximum-height doors and stiles can feature interlocking design (with no sight lines) and maximum-height compartments. Maximum-height compartments typically consist of 1830-mm (72-in.) high doors and panels with 110-mm (4 ¼-in.) floor clearance, and come with standard or full-height hardware. Manufacturers may offer taller doors and panels to meet project needs.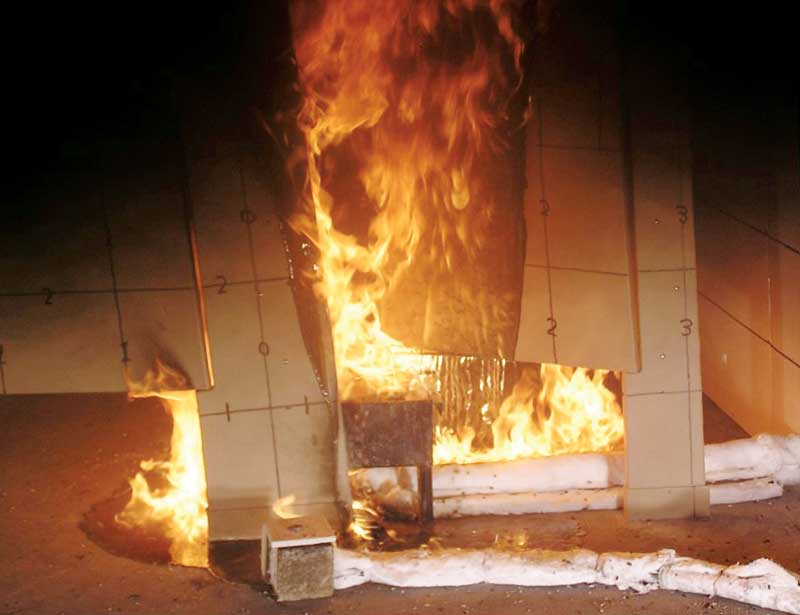 Fire code considerations
In the United States, model codes and standards pertaining to fire safety and construction are regulated by the International Code Council (ICC) and the National Fire Protection Association (NFPA). While not mandatory until adopted by city, county, state, and federal government jurisdictions, adherence to these codes is often critical, as many major corporations require compliance regardless of any governmental policy. Facilities considering renovating their restrooms with newer privacy partitions—particularly those who have not renovated in a decade or longer—should consider the most recent revisions to these codes, to maintain compliance and safe environments for occupants.
Most relevant to the specification of partitions today are the International Building Code (IBC), International Fire Code (IFC), NFPA 101, Life Safety Code, and NFPA 1, Fire Code. As of 2006, the model codes written by both ICC and NFPA clearly regulate toilet room privacy partitions as an interior finish. This is an important distinction—in recent years, some jurisdictions have interpreted fire and building code requirements for interior finish as being unrelated to restroom privacy partitions. Although these standards are not currently regulation or law in several jurisdictions, prudent architects and specifiers should adhere to them.
A number of standard toilet partition materials are acceptable under these standards, namely those that are neither polypropylene (PP) nor high-density polyethylene (HDPE). These varieties include stainless steel, painted metal, high-pressure laminate (HPL), compact laminate (CL)—also known as solid phenolic core—color-through-solid phenolic, and solid-color, reinforced composite (SCRC). When used as toilet partitions, these materials also require testing in accordance and compliance with ASTM E84, Standard Test Method for Surface Burning Characteristics of Building Materials, or UL 723, Standard for Test for Surface Burning Characteristics of Building Materials. Alternatively, they may be in accordance and in compliance with the room-corner test in NFPA 286, Standard Methods of Fire Tests for Evaluating Contribution of Wall and Ceiling Interior Finish to Room Fire Growth.
For certain plastics, such as PP and HDPE, ASTM E84 is no longer considered the best method for testing—NFPA 286 is preferred. Thus, all four codes require interior finishes using PP or HDPE be tested in accordance with the NFPA 286 room-corner test.
Architects, interior designers, specifiers, and contractors should always request complete ASTM E84, UL 723, or NFPA 286 room-corner test compliance documents from HPL, CL, and SCRC toilet partition manufacturers. It is also important to insist on unmodified NFPA 286 room-corner test compliance documentation from PP and HDPE toilet partition manufacturers prior to specification or purchase.
Building type considerations
The building type can help form a baseline for choosing a partition design, depending on whether the facility is prestige, standard-use, or heavy-traffic.
Prestige buildings have moderate to low traffic flow, with minimal use and abuse. In these facilities, architectural design and quality materials and equipment should be prioritized. These types of buildings include corporate headquarters, class-A office projects, civic centers, and major universities.
Standard-use buildings have moderate to heavy traffic and moderate to heavy incidence of vandalism, and specification is typically price-driven. Such buildings include commercial office facilities, healthcare centers, hospitality projects, and manufacturing plants.
Finally, heavy-traffic buildings can mean a possible high incidence of vandalism. Where heavy traffic and problems of vandalism exist, heavy-traffic occupancy must first be considered in the design, overriding the prestige and standard-use models. Heavy-traffic buildings include K–12 schools, shopping malls, amusement and recreation facilities, and transportation centers.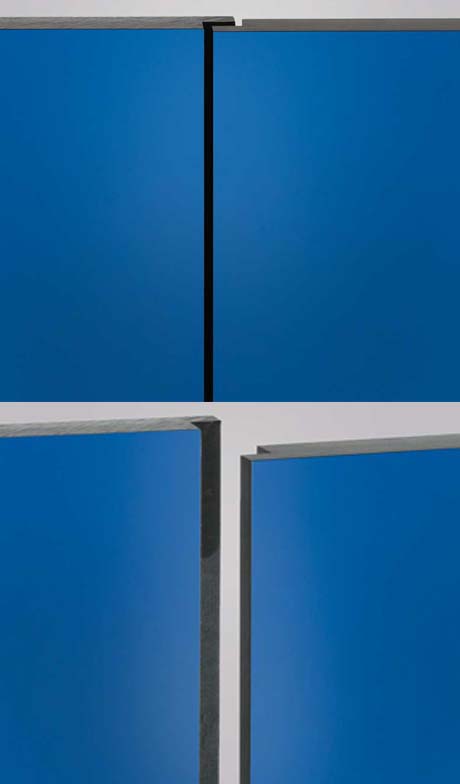 Selecting a material
Each partition material has unique advantages and disadvantages, depending on the building application.
Painted metal and stainless steel have honeycomb cardboard cores and feature wide availability and low cost—although stainless steel is typically the costlier option. Both materials qualify as class-A interior wall finishes under IBC and are more prone to rusting, dents, scratches, and odor absorption than other options. Graffiti is also more difficult to remove from painted metal partitions. Painted metal and stainless steel partitions typically have a limited warranty.
The advantages of HPL partitions include extensive color and pattern options and improved graffiti, scratch, and dent resistance, although deep scratches can expose dark kraft paper, which may absorb odors and/or swell when exposed to excessive moisture. HPL partitions also have visible brown or black edges. They are relatively inexpensive and can obtain a class-B interior wall finish classification under IBC. Special laminates may increase costs and lead time, and come with a limited warranty.
Since CL partitions are water-resistant, they can be 'hosed down' for cleaning. They also feature dent-, scratch-, and graffiti-resistance. They are available in a wide variety of colors and can achieve ICC class-A or B interior wall finish classification.
Advantages of HDPE toilet partitions include factors like their homogeneous color, which allows for gouges and scratches to simply be sanded out. Like CL partitions, the material is water-resistant for easy cleaning. These partitions also have high recycled content and come with an extended warranty. However, graffiti tends to 'ghost' into HDPE and cannot be fully removed. This is also the softest of the materials, and can easily be scratched and dented.
SCRC has a homogeneous color as well, allowing for similar benefits as HDPE. Its surface is highly resistant to graffiti, scratches and dents, and water damage. SCRC can achieve ICC class-B interior wall finish classification. These toilet partitions are available in limited colors and are more expensive than HDPE partitions.
Hardware and mounting considerations
Partition durability, aesthetics, and privacy level are all highly influenced by the hardware and mounting configuration used. Typically, aluminum and stainless steel hardware are more durable and expensive—however, in product life cycle cost evaluations, less durable and expensive hardware will typically increase long-term costs.
The most durable hardware configuration—and the most private option—is full-height institutional hardware, which features full-height hinge and attachment brackets, as well as reduced sight gaps. Specifying less durable hardware to reduce cost—particularly in heavy-traffic, vandal-prone bathrooms—can quickly result in failure of the partition. When a clean, flush front is desired, concealed hardware can also be specified.
The specified mounting configuration of a partition affects not only the level of privacy, but also the system's durability, aesthetics, and maintenance.
Overhead-braced mounting offers the sturdiest configuration at a budget price, with two attachment points at the stiles. Floor- and ceiling-anchored configurations (also with two attachment points) are typically specified for aesthetic reasons, and feature comparable durability to overhead-braced partitions at a slightly higher price point. Floor-anchored mounting is often specified for aesthetics, but when used with a single attachment point, the partitions have to be anchored into a solid base substrate. Floor-anchored mounting should only be specified in low-traffic, non-vandal prone bathrooms.
Ceiling-hung mounting is often preferred by custodians, as it reduces cleaning time due to the lack of a floor attachment. This configuration is not recommended for high-traffic or vandal-prone bathrooms—if a vandal applies pressure to the bottom, partitions may wobble, doors may open and in extreme cases, the partition or hardware may break.
ADA compliance
Accessible toilet compartments—required in all public restrooms—must adhere to ADA standards. Currently, two basic toilet compartment designs are named and outlined—the wheelchair-accessible toilet compartment and the ambulatory-accessible toilet compartment. A third variant is the large wheelchair-accessible toilet compartment.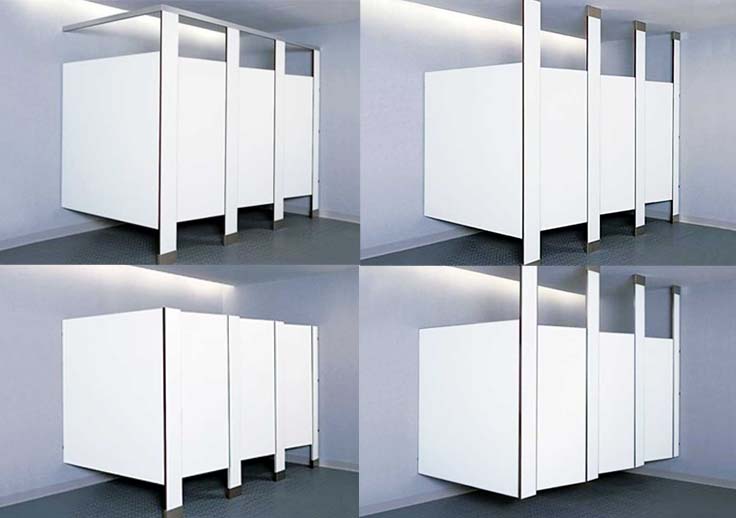 In a wheelchair-accessible toilet compartment, the depth must be at least 1420 mm (56 in.) for wall-hung toilets, or at least 1500 mm (59 in.) for floor-mounted toilets. The minimum width for all toilet partition mounting configurations is 1524 mm (60 in.). Additionally, the toilet must be offset on the back wall, with the toilet centerline 400 to 460 mm (16 to 18 in.) from the side wall or partition. Grab bars must be mounted on the rear wall and on the closest side wall or partition to the toilet.
The recommendation for a large wheelchair-accessible toilet compartment is a 1676 x 1676-mm (66 x 66-in.) interior, with 1422 x 1524-mm (56 x 60-in.) clear floor space at the toilet. Another choice is an alcove layout toilet compartment, 1.5 m (5 ft) deep and 2.4 m (8 ft) long, with an internal 1524-mm (60-in.) diameter wheelchair turning space. In-swing doors must not overlap required toilet clearance.
An ambulatory-accessible toilet compartment is used where six or more fixtures, including toilets and urinals, are provided. Depth should be at least 1524 mm (60 in.), with 2009 ICC/ANSI standards retaining the 914-mm (36-in.) absolute width dimension (the 2010 ADA standards allow a range of 890 to 940 mm [35 to 37 in.] maximum width). Doors must swing out and be self-closing, and the toilet must be located on the back wall with the toilet centerline 430 to 480 mm (17 to 19 in.) from the side wall or partition. Grab bars must be provided on both sides.
Particularly for privacy partitions extending close to the floor, toe clearance at least 230 mm (9 in.) above the finish floor is required under the front partition and one side partition of all accessible compartments. Toe clearance must extend at least 150 mm (6 in.) beyond the compartment-side face of the partition, but is not required at the front partition if the depth of the compartment is greater than 1575 mm (62 in.) with a wall-hung toilet, or 1650 mm (65 in.) with a floor-mounted toilet. Toe clearance at the side partition is not required in a compartment greater than 1675 mm (66 in.) wide.
Writing specifications
While there are many variables to consider for toilet partition systems, it is recommended each new specification reflect the requirements for the given project and not be duplicated from a previous one. Duplication frequently results in non-code-compliant systems, which cannot be manufactured or bid.
Specifications should include the material descriptions of the following:
cores, panels, doors, stiles, and screens;
surfaces;
finished thickness;
stile reinforcement;
fabrication; and
fire resistance.
Hardware features should be described as well, for categories including fastening, mounting, latching, hinges, compliance, and emergency access.
Conclusion
As building owners and facility managers reconsider restroom privacy and turn to architects and specifiers to formulate solutions, installing new toilet partitions remains the fastest, most cost-effective, and least labor-intensive method of meeting these demands. However, the process of specifying new partitions is wrought with complex design considerations and challenges.
Selecting an appropriate privacy option is the first of many critical decisions. The partition's material, mounting configuration, and hardware are all key factors in the system's longevity, aesthetics, cost, and ability to meet fire and building codes. When eliminating or adding partitions or remodeling large public restrooms, maintaining ADA compliance is non-negotiable. When dealing with toilet partition manufacturers, architects, interior designers, specifiers, and contractors should request applicable test reports from an independent, accredited laboratory. These reports must document the toilet partition materials comply with these interior finishes requirements.
Alan Gettelman is vice president of external affairs at Bobrick Washroom Equipment Inc. Over several decades, Gettelman has played a key role in expanding Bobrick's product offerings and services for architects, building owners, property managers, and facility managers. He is responsible for counseling on the preparation of architectural specifications and on fire codes, building codes, and accessibility standards compliance, as well as providing expertise in the areas of product development and marketing strategy. Gettelman can be reached via e-mail at agettelman@bobrick.com[2].
Endnotes:
[Image]: http://www.constructionspecifier.com/wp-content/uploads/2016/11/stall-edit.jpg
agettelman@bobrick.com: mailto:agettelman@bobrick.com
Source URL: https://www.constructionspecifier.com/filling-the-gap-considerations-for-specifying-privacy-partitions/
---