Fire door safety: How can specifiers help?
by brittney_cutler | July 30, 2022 4:00 pm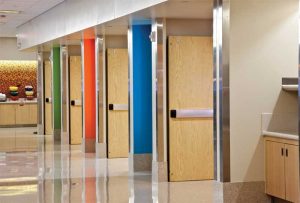 By Lori Greene, DAHC/CDC, CCPR, FDAI, FDHI
A fire at an apartment building in Bronx, New York, earlier this year drew attention to the impact of non-code-compliant fire door assemblies in multifamily residential properties. IT began in an apartment when an electric space heater ignited a mattress nearby. Although the fire was contained to the apartment of origin, at least two fire doors were open when IT occurred—the entrance door to the apartment, and a stairwell door on an upper floor. According to investigators, these open doors allowed smoke to spread throughout the high-rise building. Seventeen people died—including eight children—and 44 people suffered injuries.
Fires in multifamily residential buildings are not uncommon. According to an October 2021 report by the National Fire Protection Association (NFPA), an estimated 86,000 fires occurred in apartment buildings in the U.S. in 2020. NFPA's research shows these fires caused 350 civilian deaths, 2900 civilian injuries, and $1.6 billion in property damage. An average of 86,000 apartment fires in one year equates to around 235 fires per day in U.S. apartment buildings.
Current codes help to ensure apartment residents are protected from these fires which occur so frequently. In most states, the adopted building codes require multifamily residential buildings to have both active and passive fire protection. The International Building Code (IBC) requires automatic fire sprinkler systems, a type of active fire protection, for these residential occupancies, although they are not required for all existing apartment buildings.
Walls designed to deter the spread of fire, and opening protectives (fire door assemblies) are part of a building's passive fire protection system. As per the IBC, corridor walls in residential occupancies are required to be fire-resistance-rated when the corridor is serving an occupant load of more than 10 people and exit stairwells must be surrounded by fire-rated enclosures. In addition, fire partitions are required to separate each apartment from the next.
The walls between apartments, along the corridors and surrounding the stairwells, serve an important purpose. They are designed to compartmentalize the building, slowing the spread of smoke and flames. They also enclose the corridors and stairwells to give building occupants safe escape routes. Door openings in these walls are protected by fire door assemblies, which include a fire door, a frame, and hardware which have been tested and certified to withstand fire for a certain length of time. Without these assemblies, also known as opening protectives, the walls cannot do their job.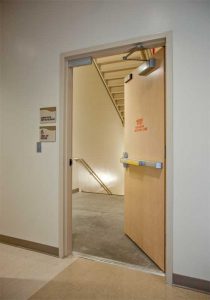 The fire that occurred in January 2022 was one of many fires in multifamily residential buildings where fire doors were left open. After another Bronx, New York, apartment fire in 2017 killed 13 people and injured 14, New York City enacted Local Law 111, which requires all interior apartment entry doors to be self-closing—even if the doors pre-date the requirement for fire door assemblies. Also in 2017, the fire at Grenfell Tower in the U.K. resulted in 72 fatalities.  During the inquiry into this incident, it was revealed most of the self-closing doors were not functioning properly the night of the fire, allowing smoke and flames to spread.
In 2019, a fire in a Minneapolis, Minnesota, high-rise apartment building resulted in five fatalities. The Minnesota State Fire Marshal's report stated, "Had the door between the corridor and apartment been able to close, it is the State Fire Marshal Division's (SFMD's) opinion the fire would have been contained to the apartment of origin and the loss of life would have been reduced and possibly only involved the occupant of that apartment."
Improving the performance of fire door assemblies
Although the current media focus on fire doors is related to multifamily buildings, there are non-code-compliant fire doors in every occupancy type. Statistics gathered during fire door inspections indicate how a large percentage of existing fire door assemblies have deficiencies that could affect their performance during a fire. Specifiers are involved during the construction process—not throughout the life of the building, but there are many ways the choices made during the specification process can affect the durability and function of fire door assemblies for years to come.
Without a doubt, the specification for every project must call for code-compliant door hardware, and NFPA 80, Standard for Fire Doors and Other Opening Protectives, includes the detailed requirements related to fire door assemblies. The standard requires each component installed as part of a fire door assembly to be listed for that purpose, typically to UL 10C, Standard for Positive Pressure Fire Tests of Door Assemblies or NFPA 252, Standard Method of Fire Tests of Door Assemblies, as required by the IBC. A wide range of products exist to meet the requirements of NFPA 80 and UL 10C listings; however, the following are some additional considerations for specifiers: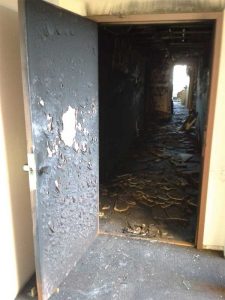 Specify hardware of the appropriate grade
The Builders Hardware Manufacturers Association (BHMA) publishes standards for each product category. Referencing the BHMA standards in a specification will help to establish the level of quality required for the project. For example, the BHMA standard addressing panic hardware is ANSI/BHMA A156.3, American National Standard for Exit Devices. The performance criteria of this standard include tests related to the number of cycles, the operation, strength, material evaluation, and the finish. The standard also describes each function and type of panic hardware and trim. Grade 1 panic hardware is tested to 500,000 cycles; Grade 2 to 250,000 cycles; and Grade 3 to 100,000 cycles. Specifying hardware of the proper grade will help ensure the products function properly. In addition, NFPA 101, Life Safety Code, requires panic hardware to be listed to this standard.
Choose the right hinges or pivots for the job
How to hang a door properly is a very important consideration and can impact the performance of the door over time. The door size, weight, and usage can affect hinge selection (i.e. hinge width, height, and thickness), and hinges for fire doors must meet the requirements of NFPA 80. A common door failure is the top hinge reinforcement, which can lead to a door that does not close or latch properly. Specifying continuous hinges for high-use doors can help to prevent this problem.
It may be tempting to specify spring hinges—particularly on entrance doors to dwelling units and sleeping units. They are more aesthetically pleasing than door closers, not as costly, less prone to tampering, and are allowed by code. Despite this, door closers typically provide greater reliability and door control than spring hinges. They can be adjusted to close and latch the door with much more precision than spring hinges, which rely on momentum to get the door closed and latched. Spring hinges may require periodic maintenance, which is impossible to guarantee once the building is occupied.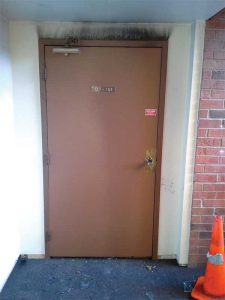 Specify the correct lock function and consider electrified hardware for access control
One way fire doors may become compromised is when an unauthorized modification is made to the hardware to hold the latch retracted mechanically. This usually happens for one of two reasons—the lock function does not allow access in a convenient manner, or there is a desire to leave the door unlatched. Choosing the right mechanical lock function can help prevent "creative" modifications which could affect the performance of the door during a fire. For doors with fire exit hardware, specifying the electric latch retraction feature will allow the latch to be held retracted electrically. This is acceptable by code as long as the latch projects automatically if a fire occurs.
On stairwell doors, that are locked or lockable on the stair side, the model codes require remote release of the electrified lock via the fire alarm or sprinkler system activation, or a switch at the fire command center depending on the code. Although NFPA 101 includes some locations where stairwell doors can be mechanically locked, the International Codes (I-Codes) do not allow mechanically locked stairwell doors (except for the stair discharge door). Specifying stairwell doors correctly helps to ensure building occupants can leave a stairway if it becomes compromised with smoke. It also allows firefighter access to each floor of the building.
Consider specifying automatic-closing doors where needed
There are three categories of fire door operation recognized by NFPA 80. Self-closing fire doors close after each time they are opened. Automatic-closing doors may be held open but will close automatically if a fire occurs; the model codes require these devices to be smoke-actuated (rather than heat-actuated) in most locations. Fire doors may also be power-operated (equipped with automatic operators), but NFPA 80 requires the operator to automatically deactivate if a fire occurs.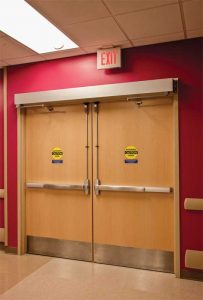 When self-closing fire doors are specified in locations where they might be inconvenient for the user, it increases the likelihood of doors being propped open with a door wedge or other method.  Open fire doors are of no value if a fire occurs and will allow smoke and flames to spread through the opening. By considering where doors may need to be held open, and specifying automatic-closing devices for those doors, specifiers can reduce the possibility of users propping doors open in a non-code-compliant manner. For fire doors that may need to be held open for only a minute or two, delayed action closers could be helpful. The short delay occurs when the door is pushed to a fully open position and is controlled by a valve limiting the closer fluid; no electrical wiring or fire alarm connection is required.
Be aware of which doors require smoke gasketing
The codes and standards do not specifically state where smoke gasketing is required for fire doors and smoke doors. The key is to look for a reference to UL 1784, Standard for Air Leakage Tests of Door Assemblies, in the adopted code, and a limit on air infiltration—typically 0.015424 m3/(min.*m2) (3 cf/[min.*sf]) of door opening at 24.9 Pa (0.10 in.) of water for both the ambient temperature test and the elevated temperature exposure test. To limit airflow to this level, doors will almost always require smoke gasketing. The gasketing must be listed for this purpose, and if installed on a fire door assembly, it must also be listed to UL 10C or NFPA 252.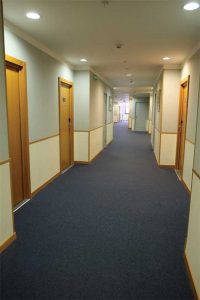 Ensure the glass and glazing spec section is up to date
Prior to the 2003 edition of the IBC, there was an exception in the code which exempted glazing in fire doors from the impact requirements applying to safety glazing in hazardous locations (including doors and sidelights). Traditional wired glass was used in fire doors for decades; however, since it was exempt from the safety standards, it did not protect against breakage on impact and was quite hazardous. The exception was removed from the IBC in the 2003/2006 editions, so glazing used in fire door assemblies must now meet the requirements for both fire protection and impact. There are wired glass and clear glazing products available today that comply with both sets of standards—traditional wired glass does not. Current codes require each piece of glazing to be labeled to indicate compliance with the test standards.
Include the initial fire door assembly inspection in the spec
Beginning with the 2013 edition of NFPA 80, fire door assemblies are required to be inspected after installation, after maintenance work, as well as annually. Including the initial fire door inspection in the specification benefits the end user and verifies if fire door assemblies are installed correctly and are code-compliant from the beginning. It is very common to see new fire door assemblies with perimeter clearances more than what is allowed by NFPA 80, hardware not installed with the correct fasteners, or fire doors unable to close and latch properly. If fire door assemblies are not installed correctly, it can be very difficult to correct them later, and the fire doors may never function properly. If these deficiencies are noted in the inspection conducted directly after installation, the future performance of the fire door assembly will be significantly improved.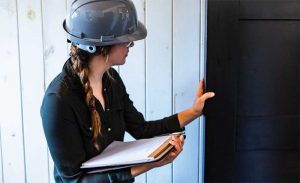 Conclusion
Investigators still do not know all the facts related to the January 2022 apartment fire in the Bronx, New York. However, it is clear there are many ways specifiers can help to ensure fire door assemblies function properly for years after they are installed. If they are hung properly, with hardware of the appropriate level of quality and durability, maintenance issues should be reduced. If a specifier plans for how the doors might be used, whereby specifying the ideal electrified or mechanical lock function and code-compliant hold-open devices where needed, building occupants will be less likely to prop doors open or defeat the positive latching hardware.
Specifying door hardware is complicated, especially for fire door assemblies and smoke doors, but choosing the right products from the start can have lasting effects on the safety and security of these openings. There are many experienced door and hardware consultants who can assist with product selection, choose the items needed for each hardware set, and create the specification. Working together, the safety of multifamily residential buildings, as well as buildings of other occupancy types, can be improved.
Endnotes:
[Image]: https://www.constructionspecifier.com/wp-content/uploads/2022/07/Doors-Held-Open.jpg
[Image]: https://www.constructionspecifier.com/wp-content/uploads/2022/07/Stairwell-Door.jpg
[Image]: https://www.constructionspecifier.com/wp-content/uploads/2022/07/Fire-Door-Inside.jpg
[Image]: https://www.constructionspecifier.com/wp-content/uploads/2022/07/Fire-Door-Outside.jpg
[Image]: https://www.constructionspecifier.com/wp-content/uploads/2022/07/Fire-Door-Pair.jpg
[Image]: https://www.constructionspecifier.com/wp-content/uploads/2022/07/bigstock-A-View-Of-A-Long-Corridor-In-T-397151036.jpg
[Image]: https://www.constructionspecifier.com/wp-content/uploads/2022/07/bigstock-Worker-Woman-Wears-A-Grey-Hard-353862515.jpg
Source URL: https://www.constructionspecifier.com/fire-door-safety-how-can-specifiers-help/
---