Improving the performance of fire door assemblies
Although the current media focus on fire doors is related to multifamily buildings, there are non-code-compliant fire doors in every occupancy type. Statistics gathered during fire door inspections indicate how a large percentage of existing fire door assemblies have deficiencies that could affect their performance during a fire. Specifiers are involved during the construction process—not throughout the life of the building, but there are many ways the choices made during the specification process can affect the durability and function of fire door assemblies for years to come.
Without a doubt, the specification for every project must call for code-compliant door hardware, and NFPA 80, Standard for Fire Doors and Other Opening Protectives, includes the detailed requirements related to fire door assemblies. The standard requires each component installed as part of a fire door assembly to be listed for that purpose, typically to UL 10C, Standard for Positive Pressure Fire Tests of Door Assemblies or NFPA 252, Standard Method of Fire Tests of Door Assemblies, as required by the IBC. A wide range of products exist to meet the requirements of NFPA 80 and UL 10C listings; however, the following are some additional considerations for specifiers: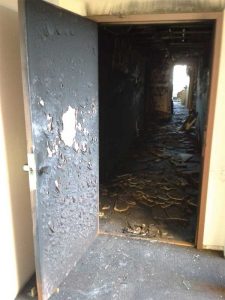 Specify hardware of the appropriate grade
The Builders Hardware Manufacturers Association (BHMA) publishes standards for each product category. Referencing the BHMA standards in a specification will help to establish the level of quality required for the project. For example, the BHMA standard addressing panic hardware is ANSI/BHMA A156.3, American National Standard for Exit Devices. The performance criteria of this standard include tests related to the number of cycles, the operation, strength, material evaluation, and the finish. The standard also describes each function and type of panic hardware and trim. Grade 1 panic hardware is tested to 500,000 cycles; Grade 2 to 250,000 cycles; and Grade 3 to 100,000 cycles. Specifying hardware of the proper grade will help ensure the products function properly. In addition, NFPA 101, Life Safety Code, requires panic hardware to be listed to this standard.
Choose the right hinges or pivots for the job
How to hang a door properly is a very important consideration and can impact the performance of the door over time. The door size, weight, and usage can affect hinge selection (i.e. hinge width, height, and thickness), and hinges for fire doors must meet the requirements of NFPA 80. A common door failure is the top hinge reinforcement, which can lead to a door that does not close or latch properly. Specifying continuous hinges for high-use doors can help to prevent this problem.
It may be tempting to specify spring hinges—particularly on entrance doors to dwelling units and sleeping units. They are more aesthetically pleasing than door closers, not as costly, less prone to tampering, and are allowed by code. Despite this, door closers typically provide greater reliability and door control than spring hinges. They can be adjusted to close and latch the door with much more precision than spring hinges, which rely on momentum to get the door closed and latched. Spring hinges may require periodic maintenance, which is impossible to guarantee once the building is occupied.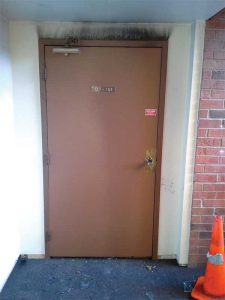 Specify the correct lock function and consider electrified hardware for access control
One way fire doors may become compromised is when an unauthorized modification is made to the hardware to hold the latch retracted mechanically. This usually happens for one of two reasons—the lock function does not allow access in a convenient manner, or there is a desire to leave the door unlatched. Choosing the right mechanical lock function can help prevent "creative" modifications which could affect the performance of the door during a fire. For doors with fire exit hardware, specifying the electric latch retraction feature will allow the latch to be held retracted electrically. This is acceptable by code as long as the latch projects automatically if a fire occurs.
On stairwell doors, that are locked or lockable on the stair side, the model codes require remote release of the electrified lock via the fire alarm or sprinkler system activation, or a switch at the fire command center depending on the code. Although NFPA 101 includes some locations where stairwell doors can be mechanically locked, the International Codes (I-Codes) do not allow mechanically locked stairwell doors (except for the stair discharge door). Specifying stairwell doors correctly helps to ensure building occupants can leave a stairway if it becomes compromised with smoke. It also allows firefighter access to each floor of the building.