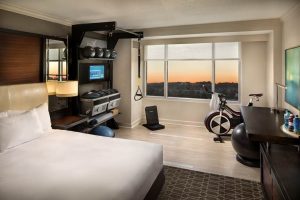 Hilton's Five Feet to Fitness program brings more than 11 different fitness equipment and accessory options into a single hotel room. The project team employed ergonomic flooring to reduce the risk of injury while mitigating noise and enhancing occupant comfort.
The Five Feet to Fitness suites aim to provide health- and wellness-minded guests with the amenities of a fitness center in the privacy of their own rooms—making it more convenient than ever to maintain health routines when traveling. Each of the fitness rooms have a section covered in a heterogeneous vinyl flooring solution.
The flooring system addresses the common risks associated with falls and exercise activities through the use of multilayer flooring technology, which combines 5 mm (197 mils) of recycled rubber backing fusion-bonded to a heterogeneous vinyl surface.
The flooring assembly generates a 17 percent force reduction, providing cushioning to absorb impact on athletes' joints. It also increases sound control so as not to disturb neighboring guests during workout sessions. Additionally, the flooring delivers a comfortable underfoot with anti-fatigue capabilities for a variety of workouts ranging from high-intensity interval training and plyometric exercises to yoga and meditation.
These rooms also have a video screen where guests can access more than 25 workout classes and 200 tutorials. The exercise area centers on the shock and sound-absorbing flooring, and features a stationary bike and storage rack housing fitness equipment (e.g. suspension and resistance bands), yoga mat, block and meditation chairs, kettle, sand bells, and medicine balls.
Hilton's Five Feet to Fitness suites are available at many of its North American hotels including Parc 55 San Francisco and Hilton McLean Tysons Corner (Virginia).