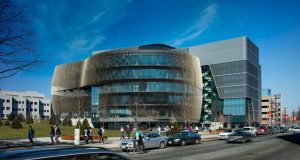 The National Building Museum (NBM) in Washington, D.C., has awarded global consulting firm Arup with the 2022 Honor Award, to recognize seven decades of creating and designing sustainable projects.
"We are thrilled to present Arup with the 35th annual Honor Award and look forward to celebrating the organization's contributions and future growth," says Anthony Greenberg, museum board chair and executive vice-president of firm JBG Smith. "Arup has long been at the forefront of the most ambitious and challenging design and engineering projects. With an intense focus on sustainability and innovation, the firm's commitment to solving the most pressing problems impacting communities across the globe is exemplary and deserving of such an honor."
Arup will receive the award during a gala at the NBM on June 16. The museum will also use the evening to unveil its new Institutional Pillars, which provide a vision for impact and focus for its work. These four pillars—equity, environment, innovation, and wonder—now guide the organization.
"It is an honor to receive this award from the National Building Museum, a champion of innovation and sustainability in the built environment," said Fiona Cousins, chair of the Americas region at Arup. "As we reflect with pride on our work over the last 75 years, we also look forward to leveraging our skills, project work, and influence to meet the current challenges of climate change, social inequity, and biodiversity, as we partner across the industry to create a more resilient world."