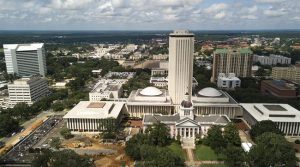 The City of Tallahassee, Florida, has earned the Leadership in Energy and Environmental Design (LEED) Gold certification by the U.S. Green Building Council (USGBC).
"From how we leverage technology and modernize our infrastructure to how we preserve canopy coverage and grow our parks system, the city's commitment to sustainable progress has forged new solutions to issues facing many communities around the world," said Mayor John Dailey.
USGBC's LEED for Cities and Communities is an international rating system providing a framework for communities to benchmark their sustainability and resilience performance relative to peers across the globe. LEED for Cities and Communities was established by the USGBC in 2016 to encourage cities and communities to increase transparency around their sustainability and resiliency performance and encourage them to focus on outcomes associated with their efforts.
The metrics identified in the LEED framework are aligned with the city's strategic goals and objectives identified in the 2024 Strategic Plan and the Community Resilience Plan, such as enhancing and modernizing the city's public infrastructure, facilitating affordable housing construction, leading in environmental stewardship, providing efficient and equitable public transit, and leading in utility service.
"LEED for Cities was created to help improve our living standard and ensure every citizen has access to healthy, green, and high-performing places and spaces," said Mahesh Ramanujam, USGBC president. "Cities that achieve LEED certification develop responsible, sustainable, and specific plans for green energy, water, waste, transportation, and many other factors contributing to quality of life, such as equity, education, resilience, infrastructure, and more."
To earn the LEED Gold certification, the city conducted an in-depth, cross-departmental data analysis and evaluation related to its strategic sustainability and resilience efforts. Thanks to the scope and breadth of its sustainability programs, the city received, to date, the highest number of points for any municipality in the current version of the rating system.
Tallahassee joins a global network of 126 cities and communities that have achieved LEED certification.
Following the receipt of a partial grant from USGBC in late 2019, the city established an internal team to begin coordinating the city's certification through the global LEED for Cities program. As part of this effort, USGBC reviewers assessed the city across a range of metrics. Click here to learn more.