Further, the health benefits of a building with a reduced potential for mold growth in wall systems are desirable in LEED projects and for building owners who want to avoid litigation due to Sick Building Syndrome (SBS). The warmer interior temperature of the structural members of the building can decrease condensation and assist in the prevention of mold.
LEED NC v4 will address the thermal comfort of occupants in its EQ Credit 5, Thermal Comfort. The relevant standard is ASHRAE 55-2010, Thermal Comfort Conditions for Human Occupancy, with errata or local equivalent. Without thermal bridging within the building envelope, project teams that design thermally broken balconies can meet the requirement of LEED v4 Credit 5.
The compatibility of air and vapor barriers—along with sealants, cementitious materials, and intumescent fireproofing—is critical for building envelope code requirements. Thus, the inadvertent development of an aerogel-filled thermal break coating is a workable solution to a nagging design problem.
Interior and exterior areas where thermal bridging is a concern
Among windows within interior rooms where the relative humidity can reach high levels in the cold winter months and thermal bridging has not been mitigated, the ice buildup on the windows can present moisture issue to the materials and systems surround the opening. As the ice melts, the moisture can migrate to the drywall and damage the interior walls, as well as provide moisture for mold growth.
To mitigate the surface temperature of the window frames, an aerogel-insulated coating can be applied to raise conditions above the dewpoint to greatly reduce and potentially eliminate condensation. For example, an existing aluminum window frame within a high relative humidity (RH) room with an outside temperature of −2 C (28 F) will go from a spot surface temperature reading of 8.4 to 20.3 C (47.1 to 68.5 F), once 2794 µm (110 mils) of the aerogel coating has been applied.
Another common area within the interior of the building affected by condensation is where the walls and ceilings meet at a corner—mold can be noticeable at these locations. At the intersection of the interior and exterior on multi-family construction, balconies are also common sources of heat loss and condensation issues. The balcony slab extends to the outside air, exposing the entire slab to exterior temperatures via thermal bridging; the intersection of the low and high energy temperatures heating and cooling energy throughout the building is often lost—any exterior systems in contact or nearby will absorb more moisture from condensation than they can withstand.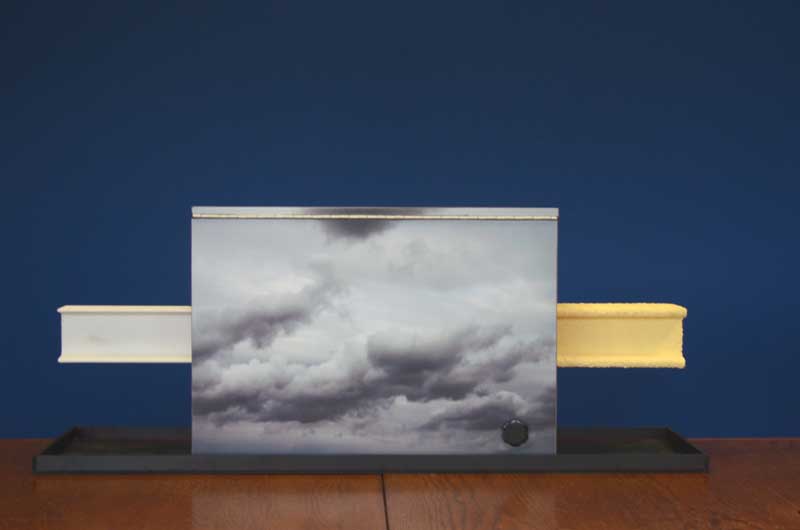 Application of insulated coatings
For insulating the building envelope, fluid-applied insulated coatings cannot replace dry insulation methods, but they can help achieve optimal energy efficient performance of the building envelope. Corrosion resistance is achieved with
a primer applied to the substrate prior to applying the coating. Often, a finish coat is also applied for aesthetic or other reasons, such as ultraviolet protection or chemical resistance.
The use of zinc-rich primers is not generally recommended when in-service temperatures exceed 49 C (120 F) (Reference NACE SP0198, Control of Corrosion Under Thermal Insulation and Fireproofing Materials, for further information.)
Conclusion
A fluid-applied, thermal insulating coating utilizing aerogel particles can impart exceptional insulative properties to a variety of substrates. Within buildings, these new systems are ideal for structural steel or other substrates where thermal improvement is desired.
Communication is key for the project team members charged with the energy efficiency performance and condensation control of 
the building. It is equally important for the manufacturer, contractor, and structural engineer to communicate and share information about this important intersection point in a building where cold air meets higher-energy hot air.
DANGERS OF CONTINUOUS CONDENSATION CYCLES
Structural steel beams' hardware or welds that remain wet due to moisture infiltration can weaken, leading to potentially costly building code violations or mitigation projects. A worse result is structural failure—especially when leaking exterior systems exacerbate the issue compounded with heavy snow loads and chlorine rock salt that has been applied for years on roof pavers. These cases are rare, but have happened.*
Insulated fluid-applied coatings were first used on boilers and pipelines where preventing steel corrosion under insulation (CUI) was of vital concern. Corrosion can attack the jacketing, insulation hardware, or the underlying steel. The National Board of Boiler and Pressure Vessel Inspectors is a great resources for further information on steel corrosion under insulation.
Insulated fluid-applied coatings are durable, corrosion-resistant products that bond to the substrate, greatly reducing the issues associated with CUI. Once moisture and thermal protection exterior systems have been installed, the properly installed insulated coating will provide peace of mind to the project team, and building owners and occupants, for decades to come. 
* See the 2012 forensic engineering investigation report into the Algo Centre Mall Collapse in Elliot Lake, Ont.
Paul Nutcher, CSI, CDT, AIA Allied, is the president of Green Apple Group LLC, a marketing, technical, and sustainability consulting firm. A LEED Green Associate, he has more than 10 years of building industry experience as a specifications and technical writer, educator, and consultant to product manufacturers and design/construction professionals. Nutcher has served in leadership roles with CSI, the U.S. Green Building Council (USGBC), and the American Institute of Architects (AIA). He can be reached at pnutcher@greenappleconsult.com.