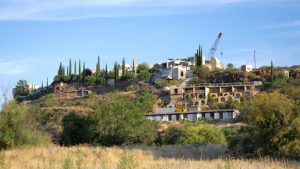 Frank Lloyd Wright's School of Architecture at Taliesin (SOAT) will be changing its name and moving both its campuses in Scottsdale, Arizona, and Spring Green, Wisconsin, to Cosanti and Arcosanti, the home and studio of Italian architect, artist, and urban theorist Paolo Soleri in Arizona.
This decision comes after a lengthy back-and-forth with the Frank Lloyd Wright Foundation that took place in January when the school said it would cease operations of both its campuses after 88 years.
"After an outpouring of support from alumni and funding commitments, the school reversed its vote to close at the beginning of March but will need to vacate both Taliesin campuses and can no longer use the Frank Lloyd Wright or Taliesin name, though it will retain its accreditation and students," The Architects Newspaper reports.
The Cosanti residence and studios will serve as the main campus, while the experimental town Arcosanti will be an additional site, reports Dezeen.
School dean Chris Lasch, who is serving as interim president, told Dezeen the Soleri-designed sites that are owned by the Cosanti Foundation would allow the school to continue the hands-on approach to architecture teaching that Wright established.