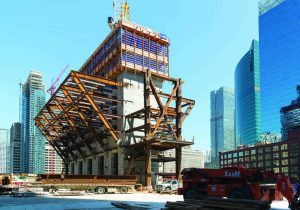 The Construction Specifier's series of downloadable e-books continues with an exploration of the different ways steel can be used in construction projects. An article in our newest sponsored e-book looks at the application of steel in construction on a long-vacant parcel of land situated on downtown Chicago's riverfront.
Situated on a narrow lot adjacent to the Chicago River, the project team for 150 North Riverside utilized some of the world's highest-strength steel and largest-rolled shaped steel—W36x925—to bring the building to life and achieve the necessary strength and stiffness in the structure. In addition to using 482-MPa (70-ksi) rolled shapes for the first time in the United States, the fabricators pre-fitted the steel for the transfer truss in the shop itself to confirm every single bolt hole aligned, with no welding or reaming of bolt holes on the entire transfer system. Additionally, the team preplanned every step to prevent any issues in the steel truss and concrete core connection for constructing level floors.
"Transforming Chicago's Riverfront" appears, along with a trio of other articles from the pages of The Construction Specifier, in "Exploring Steel Structures"— a free, downloadable resource. To get your copy in either pdf or digital edition, visit https://www.constructionspecifier.com/ebook/new-millennium-exploring-steel-structures-e-book.