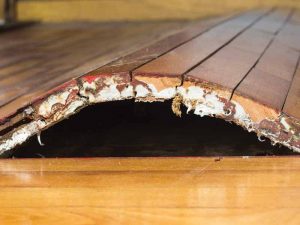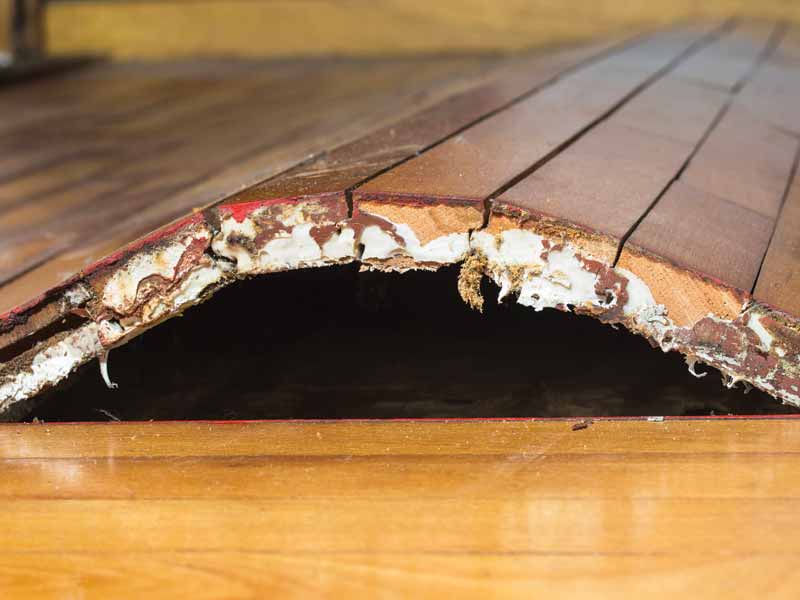 Cupping
Cupping occurs when the edges of a board are higher than the center. Low RH in the environment or moisture in the subflooring are common culprits. As the wood expands on the bottom (due to moisture from the subfloor) or shrinks on the top (due to dry environmental conditions), the edges of the boards start to deform and raise. Aside from the visible warping of the floorboards, the floor could eventually fail altogether. The cupping could continue to worsen and create gaps between the boards. Eventually, if the boards do not revert to their original shape, they could buckle away from the subfloor, or even splinter or crack.
Crowning
The opposite of cupping is crowning when a board's center is higher than its edges. If a wood floor is exposed to moisture or humid conditions for extended periods of time, the moisture can saturate the wood flooring and cause crowning. Another possible cause of crowning could be when a floor was previously cupping and was sanded before the moisture level returned to a normal state.
Buckling
Buckling is an extreme reaction to moisture in a wood floor and occurs in response to prolonged exposure to excess moisture. Buckling happens when the flooring gets pulled up from the subfloor, lifting as much as several inches in one or more places. Fortunately, buckling is not a common occurrence, and if caught early, spot repair and replacement may be possible.
Cracking
Cracking, or the occurrence of separations between floorboards, is another possible sign of a moisture problem. Typically, cracking is more a response to significant (often seasonal) variations in the air's RH rather than an issue with moisture in the subflooring. Therefore, monitoring a building's temperature and RH levels and taking corrective action is all that is needed to address cracking.
Mold or mildew
Persistent moisture in the subfloor may also lead to problems with mold or mildew within or under the wood flooring. A musty smell provides an important telltale clue mold may be a serious problem. If present, it should never be ignored because certain types of mold pose a significant risk to human health.
Discoloration
Discoloration of wood flooring due to moisture may also occur. In many types of hardwood flooring, excess moisture may cause the wood to take on a darker appearance than normal. The appearance of splotches of darker wood appearing may indicate the finished floor is in contact with moisture in the concrete subflooring.
Other types of wood flooring
For engineered wood, delamination is a common issue related to moisture. When moisture penetrates the layers of an engineered wood product, the glue holding layers together can fail.
Solid wood can be susceptible to the effects of moisture. Moisture-related issues can include the ones discussed above.
Wood finishes, such as sealers, stains, varnishes, urethanes, etc., may add some degree of moisture protection from above, but they will not address the various problems stemming from moisture in a concrete floor slab.
Applying a sheet material that serves as a moisture barrier, such as a 6-mil thick polyethylene (PE) plastic sheet overlapped with taped seams, can be one way to mitigate concrete moisture. This sheet material does not negate the importance of installing a vapor barrier underneath the slab. It should serve as an additional element of protection.
Prevention is the best remedy
While wood flooring makes a great choice for a variety of commercial applications, its susceptibility to various problems stemming from moisture calls for due diligence prior to any installation over a concrete floor slab. One aspect of this due diligence is simply to wait. It takes time for a concrete slab to dry, even when specific steps are taken to hasten the drying, such as enclosing the building and turning on the HVAC.
The general rule of thumb for concrete drying is one should allow a month for each inch of thickness of the concrete slab, and this is after the establishment of environmental conditions conducive for drying.