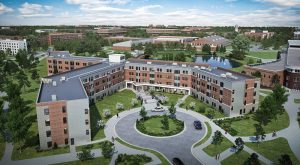 Gilbane Building Company, in partnership with design-builders Clark Construction, and AVB, Inc., is handling the campus-wide transformation of Eastern Michigan University (EMU), Ypsilanti, in a three-year project worth $200 million.
The project dubbed "Welcome Home 2025" by the university is a development by Guilbane Development Company, another arm of Guilbane Inc. It will feature the construction of two entirely new student living facilities: Lakeview Apartments and Westview Apartments. These new facilities will transform the campus landscape, with the Lakeview Apartments located adjacent to the University's Student Center and overlooking the pond and university park. The new Westview Apartments will be located between the west side of the campus, which features many of the university's athletics facilities, and the main campus.
Additionally, renovations will be made to all remaining residence halls on the campus, with enhancements to include new air conditioning, bathrooms, and state-of-the-art technology; and several older housing units will be demolished as part of the plan.
Progressive AE and Mackey Mitchell Architects are serving as architects of record, with minority-owned Moody Nolan, Inc. as associate design architect. Progressive is also serving as the engineer for the new construction projects, with IMEG as engineer of record for the renovation projects. Rieth Jones Advisors is providing advisory services to the university.
By design, the shared amenity spaces and upgrades will facilitate social interaction and a sense of community, all while supporting living-learning and overall well-being to ensure success for a diverse student population. Planning efforts for the facility design and operations involved an extensive engagement process over four months, including thousands of conversations and opportunities to engage with faculty, staff, students, campus organizations, and stakeholders.
"Students are very excited to see this investment in student life and our on-campus experience, and we are proud of the role EMU students played in getting this project off the ground," says student body president Auryon Azar. "Walking by the construction site is a reminder of what is possible when we advocate for ourselves and work with leaders in our community: we drive progress for everyone."
"We at Gilbane Building Company, along with our development team partners, are excited to bring the Welcome Home 2025 vision to life at Eastern Michigan University. This very important work will transform student housing for EMU students and will provide multiple opportunities for local trade contractors, including Disadvantaged Business Enterprises (DBE) partners. We look forward to delivering high quality, affordable facilities that will enhance the residential experience of EMU's students and support the greater mission of Eastern Michigan University as an institution of opportunity for all," says Lynn Rogien, area manager at Gilbane Building Company.