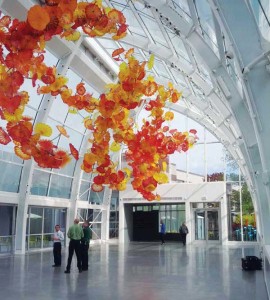 The glass-enveloped Chihuly Garden and Glass Museum in Seattle, Washington, features works by sculptor Dale Chihuly and a seamless heating system to reduce visual obstacles for occupants.
Opening last May, the 1115 m2 (12,000 sf) of indoor gallery and exhibition space is surrounded by a 1486-m2 (16,000-sf) garden also featuring glass sculptures and installations. An existing structure was repurposed into exhibition space and a 13-m (43-ft) tall, 418-m2 (4500-sf) glasshouse designed by Chihuly was added as the center's focal point. The facility also contains:
café;
outdoor patio and seating;
223 m2 (2400 sf) of retail space;
theater with seating for 50 occupants; and
additional green space.
Designed by engineers at Rushing, the building's primary heat source comes from radiant heating/cooling slabs. The challenge was installing a complementary system around the perimeter to supplement the slabs.
The demands of the system included installing something with:
low-visibility to not disrupt the glass displays and structures;
quick activating to respond to changes in weather and the inflow of many occupants at a single time; and
a means to prevent condensation from forming on the glass.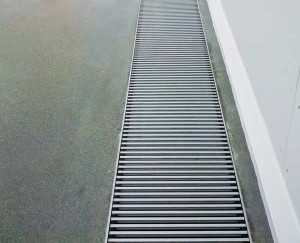 To meet these requirements, 52.7 m (173 ft) of trench radiators with a continuous grill were installed level with the floor. The disguised installation was also able to withstand heavy loads, such as tables and chairs for hundreds of occupants during an event.
When heating is required, the heat generated by the radiant floor panels is supplemented by the perimeter installation, which provides a consistent temperature and optimal occupant comfort.
The system also provides energy savings of up to 35 percent. The heated air curtain generated by the trench radiators limits the amount of energy lost through the windows in addition to preventing condensation buildup.
For warmer months, operable window and door assemblies were installed within the glass structure to provide cooling and reduce the solar heat gain.
The 'invisible' heating and cooling system allows visitors to view multiple Chihuly pieces, including the artists' largest glass display to date.