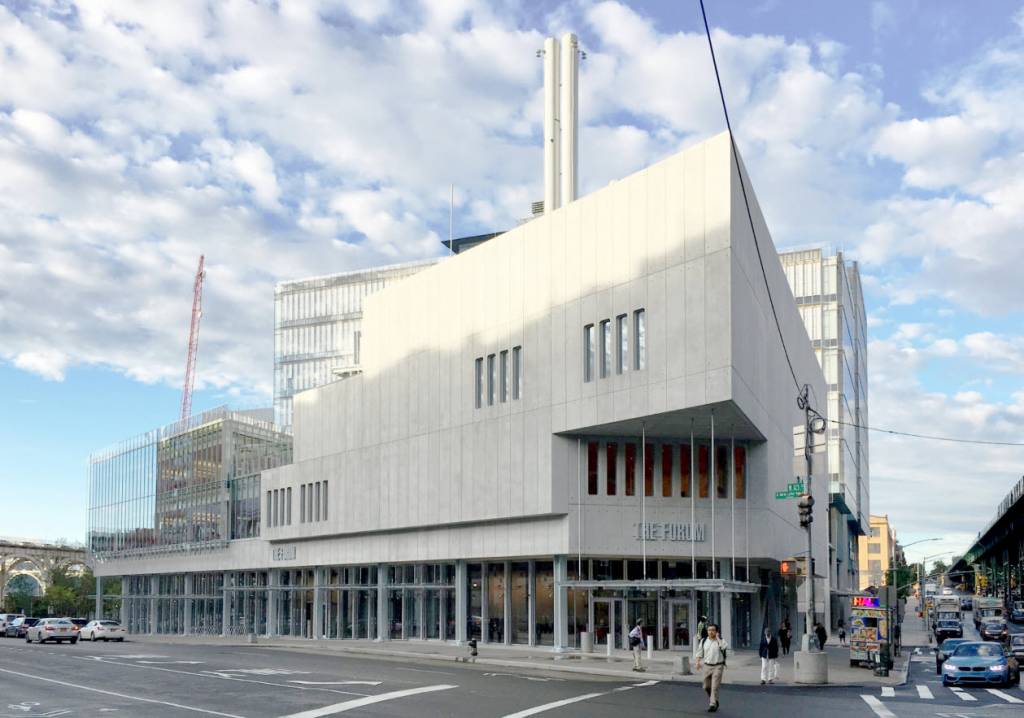 Dattner Architects joined Columbia University and Renzo Piano Building Workshop to celebrate the opening of The Forum, a gateway to Columbia University's new 7-ha (17-acre) Manhattanville campus in New York.
Completing a triad of new buildings, the 5203-m² (56,000-sf), glass-enclosed forum is open to the public, with the main lobby and retail space at the street level, echoing elements of the neighboring Jerome L. Greene Science Center and Lenfest Center.
Triangular in shape, the new academic conference center is a highly visible component of campus, comprised of three levels above and one level below grade.
The multipurpose facility features a 437-seat auditorium to host academic conferences, meetings, and symposia, as well as additional break-out and meeting rooms, faculty offices, and open gathering spaces, including a public garden, café, and information center, providing generous shared meeting spaces.
The auditorium, whose function requires opaqueness, is expressed with a prefabricated concrete skin, whereas the offices, requiring daylight, have a glazed façade. The transparent ground floor both conceptually and physically blends seamlessly with the public spaces.
The 390-m² (4200-sf) café offers food and coffee, and will serve as a catering facility. The building's 186-m (2000-sf) ground floor lobby provides flexible space for a range of activities, from pop-up exhibits to academic events and other public gatherings.
In addition to being designed to Leadership in Energy and Environmental Design (LEED) Gold standards, the Forum is also part of a New York State Energy and Development Authority (NYSERDA) initiative.