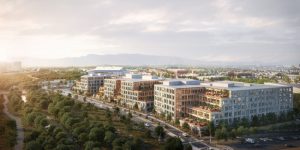 Ground has broken on Platform 16, an 111,484-m2 (1.2-million sf), three-building office campus in downtown San Jose, California, which is designed by Kohn Pedersen Fox Associates (KPF).
Located on a 2-ha (5.4-acre) site adjacent to Google's planned 743,224-m2 (8-million sf) transit village and a major Bay Area transportation hub, Platform 16 will include multiple outdoor terraces, active pedestrian plazas, expansive floorplates, and 5-m (15-ft) floor-to-floor heights, prioritizing the experiences of diverse occupants.
On Platform 16's main façade, three module orientations—center, left, and right—create a sense of depth and texture by breaking down the building's scale and shimmering like sequins in the sun's reflection. The project's low, horizontal mass recedes from the street as it steps up to create large terraces at every level. Providing significant outdoor space for tenants and unobstructed views of San Jose and the nearby Guadalupe River Park, these terraces are positioned and oriented to bring daylight deep within Platform 16's interiors. Bronze in color, the terrace façade contrasts the main wall in materiality and scale, evoking an organic composition that also points to the project's sustainability. Accessible on each level, the terrace space promotes well-being outside the traditional office setting.
"Our goal for Platform 16 is to create a responsive, generous, and healthy building that will stand the test of time thanks to its inherent flexibility," said Trent Tesch, KPF design principal. "We prioritized occupant wellness and comfort by creating significant outdoor space at each level of the buildings, carving away the form at key moments that also, along with a dynamic façade, create a visual variety along the street."
The Platform 16 project is also designed to be highly energy efficient. Current energy use projections for the development show it outperforming the American Institute of Architects (AIA) 2030 Commitment goal of an 80 percent reduction against its baseline. The combination of a high-performance façade, passive cooling systems, and high efficiency lighting systems will minimize the building's energy demand, while design provisions for a solar photovoltaic (PV) roof, covering 20 percent of the building demand, will further reduce emissions. Additionally, the project's traditional central core system creates flexible, efficient floor plates along with desirable floor-to-floor heights that provide ample space for reconfiguration to cater to any future tenant.