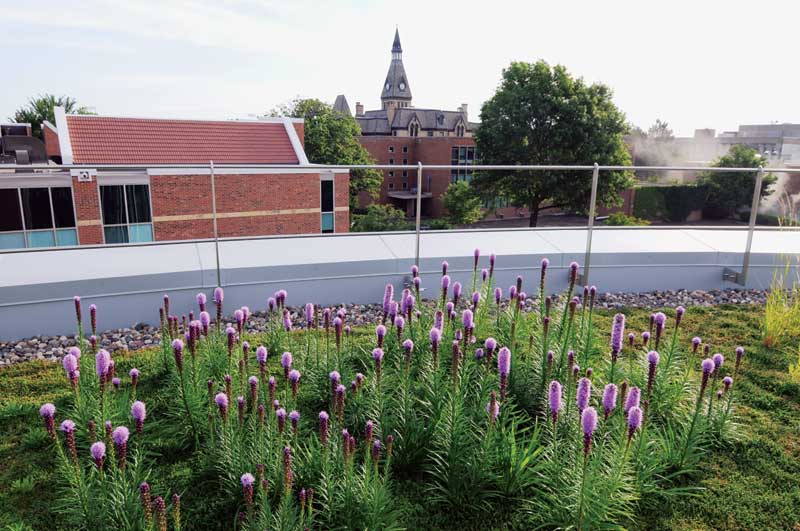 The new Anderson Center at Hamline University in St. Paul, Minnesota, welcomed students this September with a 167-m2 (1800-sf) vegetated green roof. This elevated ecosystem project is part of the building development that has become the official entrance to the campus.
The school has invested $36 million into the development of the Anderson Center—the most it has ever spent on a single building. The final product is a 9290-m2 (100,000-sf), three-story, terra cotta and glass structure, with the design elements incorporating sustainable processes, materials, and energy efficiency.
Lowell Bromander, the university's associate vice president of facilities services, explained the decision to include the vegetated roof in the design plan was to incorporate sustainable features in the project.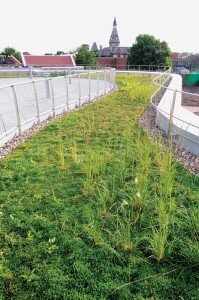 "The green roof is an essential feature in meeting our sustainability goals for the project, including energy savings, sound insulation, and reduction of stormwater runoff," he says.
The assembly benefits the facility in various ways, while remaining a functional space. The advantages of the green roof include:
reclaiming green space to the property;
filtering and soaking up excess rainwater;
limiting cooling costs by providing a barrier over the traditional, sun-absorbing roof; and
providing insulation to the building to reduce heating costs in cold weather.
As a result of these features, the building's potential Leadership in Energy and Environmental Design (LEED) point value can increase, as determined by the U.S. Green Building Council (USGBC). The Hamline project was built to achieve Silver.
When preparing materials for the roof, regional growers customized vegetation choices using plants naturally found in the area, such as native grasses, coneflowers, and day lilies. After plants were selected, they were grown until healthy root systems developed before being transported and installed. Beneath the layer of visible vegetation and growing medium, the assembly includes a root-repellant system, a drainage system, a filtering layer, and a water-repellent layer. All these components contribute to the overall perks of the roof.
Along with the vegetated roof, which includes a terrace, the completed building has meeting rooms with advanced technology systems available for students, faculty, staff, and visitors.