Hardwood Takes the Floor: Navigating solid and engineered wood options
February 1, 2013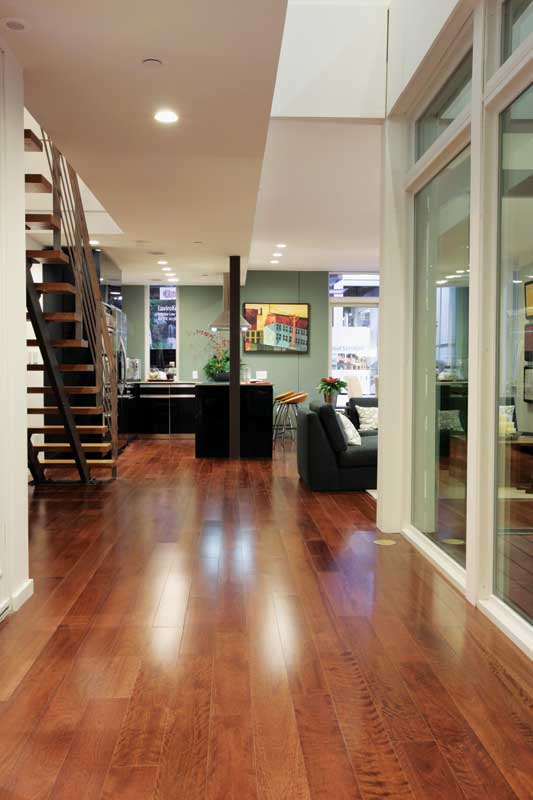 by Eric Anderson
When specifying wood floorcoverings in commercial buildings, considerations include facility type, specie, durability, design goals, and budget. For design teams not willing to settle for a 'lookalike' synthetic product, a starting point is deciding whether to specify solid-strip or engineered wood flooring.
Hardwood flooring can be a timeless addition to interior commercial spaces, conveying design expressions and sensory properties few flooring products emulate. It is available to building and design teams in two forms—solid and engineered.
Solid-strip wood flooring refers to solid hardwood planks. Comparatively, engineered wood planks are typically constructed from three or more layers of solid wood pressed together in a cross-ply pattern. A hardwood wear layer tops the underlayers for a finished look resembling solid wood flooring.
Although similar in appearance, solid and engineered wood flooring provide different performance and design advantages depending on where the floor is being used. Examining the basic properties of each flooring type can help ensure the specified product properly functions for its application, offering decades of service, while aiding in lowering costs. Due diligence with manufacturers and suppliers is important when verifying the selected flooring meets performance, design, and cost expectations.
Subfloor compatibility  
A key distinction between solid and engineered wood flooring is subfloor compatibility. Solid wood flooring is suitable for installation over plywood, oriented strandboard (OSB), and other wood substrates at or above ground level. Best practices include nailing floor planks to the wood substrate as per National Wood Floor Association (NWFA) guidelines, positioning the finished flooring at right angles to the joists, and working from several boxes of flooring strips to ensure color consistency.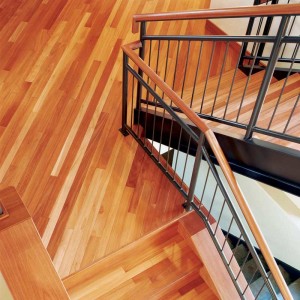 Engineered wood flooring provides building and design teams with greater flexibility. Its stable core helps protect against excessive expansion and contraction from changes in temperature, moisture, and humidity. This enables installation over a wide array of subfloor systems, including:
wood substrates;
subfloors in below-grade spaces;
areas with radiant heat;
concrete slabs; and
existing floors.
When specifying engineered wood flooring, appropriate subfloor preparation helps ensure the best overall result. For example, areas with radiant heat must include a working humidification system and be checked for sections of excessive heat. Similarly, incorporating an approved substrate underlayment over concrete slabs can minimize dust, reduce moisture seepage, and prevent squeaks in dry seasons.
For applications where it is desirable to float-down engineered wood flooring (i.e. planks are locked or snapped together but not directly attached to the subfloor), it is important to consider whether the tongue-and-groove locking system necessitates an adhesive to glue the boards together. Given that floating systems rest on the substrate without nails or glue fastening the wood surface to the subfloor, the floorcovering is susceptible to shifting with moisture changes.
Adhesives can play an important role in preventing joint separation during this process. Best practices include using low- or no-water content adhesives and applying a bead of glue in a plank's groove before inserting the tongue of the next board.
Regardless of the subfloor material, it is critical to ensure the substrate is dry, flat, and sound. Moisture intrusion can result in cupping, swelling, and splitting, while an insufficiently smooth subfloor can lead to hollow spots, gaps, and uneven wear. Details for acceptable subfloor requirements are available in manufacturer guidelines, as well as in NWFA's Installation Guidelines.
Location considerations
Location often impacts a floor's performance criteria. As such, evaluating the effects of environmental factors on solid and engineered flooring is critical to narrowing down an appropriate product. Important location considerations include:
exposure to moisture;
foot traffic; and
proximity to a building entrance.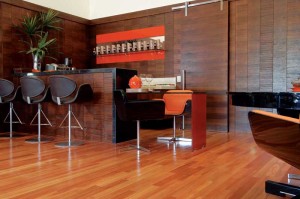 The amount of moisture a floor must withstand depends on its location within a building. For instance, hardwood floors in a restaurant dining room needs to hold up to spills. Barring poor maintenance and unattended spills, the dimensional stability of engineered wood flooring can act as an important ally in preventing water damage. Since constant exposure to water degrades a hardwood floor's appearance, the design professional may want to consider an alternative surface material in applications prone to heavy moisture content.
A floor's location within a building can also determine the amount of foot traffic it must withstand and the desired level of durability. Hardwood floors on the main level of a museum would likely be exposed to large, concentrated groups of people, whereas hardwood floors on the second floor of a library would be subjected to smaller, more infrequent groups of people. Where heavy foot traffic is anticipated, design professionals should consider specifying harder and denser wood flooring options given their better wear resistance. For solid-strip hardwood flooring, woods that surpass red oak on the Janka Ball Hardness Test (i.e. 8894 kPa [1290 psi])—the industry benchmark for wear resilience—are more durable. Examples of hardwood species exceeding this threshold include:
ash;
sapele;
ipê;
mahogany; and
select eucalyptus varieties.
Given their manufactured core, many engineered hardwood flooring products are suitable for high-traffic areas.
Hardwood flooring systems designated for building entrances have a special set of maintenance, design, and slip-resistant considerations. They must withstand water and dirt deposits for brief periods, shoe tracks, and frequent mopping to ensure a safe and clean surface. While it is reasonable to expect harder wood species and engineered hardwood flooring to perform better in such areas, incorporating mats is an essential design component.
Mats can help protect floors against water damage, remove dirt and debris from shoes as people enter the building, and help prevent slips and accidents. In climates that have frequent precipitation, floors are more subject to water deposits regularly. For these applications, one should consider using heavy-duty textile-based mat systems for entrances.
Acoustic properties
Since floors reflect sound off their hard surface and can amplify or dampen the sound of footfall, it is important to specify a floorcovering to contribute to a commercial space's sound attenuation goals.
For example, in performing arts centers, concert halls, and other places where sound optimization is paramount, solid wood flooring with a dense, fine structure and high dimensional stability should be considered. Hardwoods with these properties can act as sound reflectors, while also helping absorb lower-frequency sounds. They pair well with porous-surfaced materials (i.e. upholstery, drapery, and carpet) that absorb higher-frequency sounds. This design tactic helps optimize sound quality, reverberation time, and a space's ability to support a wide range of frequencies. (For more, refer to Ulrike G. K. Wegst's article, "Wood for Sound," in the October 2006 edition of American Journal of Botany. Visit www.amjbot.org/content/93/10/1439.full[4].) An acoustic specialist can help guide the selection and design process for concert halls' complexity.
In commercial areas where it is important to minimize the impact of noises, appropriately installed solid and engineered wood flooring can help diffuse and absorb in-room sound. Solid wood flooring installation is typically straightforward. Contractors normally nail down flooring strips as per NWFA guidelines, with successive flooring strips tightly laid groove-to-tongue, and an expansion space between the strip and wall.
Best practices when using engineered wood flooring include nailing the wood surface to a substrate with a tested and approved acoustic underlayment. Nailing the floor to the substrate helps eliminate excessive movement. Underlayments with an acoustic foam top can help further absorb noise, reduce the hollow sound of footfalls, and cushion the floor's movement.
Before final selection, it is important to ensure hardwood flooring and other building elements work together to comply with applicable acoustic control standards. In California, for instance, the 2010 California Green Building Standards Code (CALGreen) requires residential and non-residential construction up to three stories to comply with sound transmission and impact insulation standards.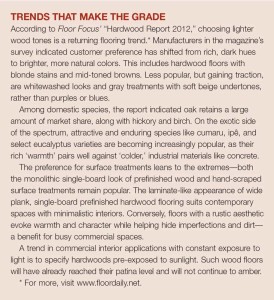 [5]Aesthetic considerations
While solid wood flooring features a wide range of grain patterns, colors, and growth marks, it is specie type that generally determines the surface aesthetic. With engineered wood flooring, the makeup of the top wear layer impacts its appearance. For example, the grain of rotary-cut veneers—sawn like layers of plywood—resembles plywood. The grain of flat-cut veneer (milled by slicing along the length of the log) better emulates the surface of solid-strip flooring.
Since contemporary style and client preference often dictate selection, asking the following basic questions can guide an application (see "Trends that Make the Grade."):
Does the hardwood flooring match the interior color palette?
Does the hardwood grain compete with interior furniture?
Does the space call for the interplay of flooring planks or a monolithic aesthetic?
Does the space warrant sequences of short or long flooring planks?
How will daylight levels affect the hardwood floor's aesthetic?
Is patina—the ambering of wood when exposed to sunlight—a concern with the hardwood flooring?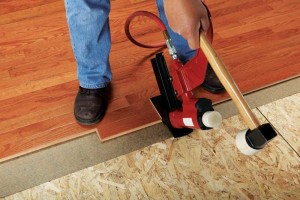 Additionally, since aesthetic preferences change, it is important to specify a hardwood floor suitable for sanding and restaining. Solid wood flooring products appropriate for this process are those that can absorb various stains, including oil and water-based. Sanding and refinishing solid strip flooring can help retain the floor's natural aesthetic when normal wear and use starts to affect its surface appearance.
Engineered wood flooring has less flexibility for refinishing than solid strip flooring. In general, sanding and refinishing engineered products is possible on those with a thicker wear layer—at least 3 mm (1⁄9 in.) thick—while rescreening is possible on those with a wear layer thickness of 2 mm (1⁄14 in.) or less. However, it is important to note this is a subjective process. The option to refinish engineered wood flooring largely depends on the surface condition of the hardwood wear layer's surface condition.
Finishing options
Solid and engineered wood flooring products are available unfinished or prefinished, but most of today's engineered wood products are the latter.
A benefit of selecting unfinished flooring is that design teams have an opportunity to view the surface in built-out spaces and tailor finishes to the application. Finishing onsite also helps preserve the natural characteristics of the wood, and enables the installer to create borders, inlays, and other custom elements. Without proper controls, the process' downside is it can produce odors and gases adversely affecting indoor air quality (IAQ) during construction. Comparatively, refinished floors are stained, finished, and dried in a controlled environment long before installation and can help mitigate a floor's impact on IAQ during construction. Also, it allows teams to expedite the installation process—a key reason why the trend toward prefinished hardwood flooring is expected to grow.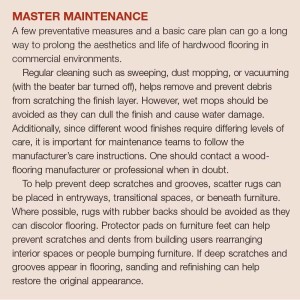 [7]Penetrating finishes require more intensive maintenance. For instance, a wax finish soaks into the pores of wood flooring to create a hard, protective seal and glistening surface. The result is beautiful, but maintenance staff must periodically reapply wax and cleaners to ensure the floor keeps its luster (see "Master Maintenance").
Another important consideration pertaining to finishes is whether the applied treatment matches maintenance needs. Of the two broad options, a surface finish requires less maintenance than a penetrating finish. A protective polyurethane topcoat, for example, necessitates a weekly sweep or dust and occasional cleaning with a no-wax floor cleaner per manufacturer recommendations.
Conclusion
Versatile and made of genuine wood, there is no question as to whether hardwood flooring adds value to commercial interior applications. The question is rather which option is best-suited for a given application. Since it can prove challenging—even for trained professionals—to distinguish between solid-strip and engineered hardwood flooring once installed, a good working knowledge of the two offerings can help building and design teams move beyond appearance to performance.
Eric Anderson is the marketing manager for Weyerhaeuser Forestlands International, which offers solid and engineered exotic hardwood flooring, lumber, and veneer for various applications. Educated as an architect, he has worked for several firms and spent 12 years as the owner of a furniture design and residential building and remodeling business before joining Weyerhaeuser. Anderson can be reached at eric.anderson2@weyerhaeuser.com[8].
Endnotes:
[Image]: http://www.constructionspecifier.com/wp-content/uploads/2013/02/hardwood_Image-1_Lyptus.jpg
[Image]: http://www.constructionspecifier.com/wp-content/uploads/2013/02/hardwood_Image-2_Lyptus.jpg
[Image]: http://www.constructionspecifier.com/wp-content/uploads/2013/02/hardwood_Image-3_Lyptus.jpg
www.amjbot.org/content/93/10/1439.full: http://www.amjbot.org/content/93/10/1439.full
[Image]: http://www.constructionspecifier.com/wp-content/uploads/2013/02/hardwood_TrendsThatMakeTheGrade.jpg
[Image]: http://www.constructionspecifier.com/wp-content/uploads/2013/02/hardwood_Image-5_Lyptus.jpg
[Image]: http://www.constructionspecifier.com/wp-content/uploads/2013/02/hardwood_MasterMaintenance.jpg
eric.anderson2@weyerhaeuser.com: mailto:eric.anderson2@weyerhaeuser.com
Source URL: https://www.constructionspecifier.com/hardwood-takes-the-floor-navigating-solid-and-engineered-wood-options/
---